December 25, 2021
Chad Holloway
Since running deep in the 2005 World Series of Poker (WSOP) Main Event, Bernard Lee has become a fixture in the poker world, both as a player and as a media personality. This year not only marked the 14th anniversary of The Bernard Lee Poker Show, but it's also the 11th consecutive year that Lee has helped homeless families in the Boston area during the holiday season.
Lee heads up the Full House Charity Program, which has provided more than $100,000 worth of goods and funds to children-focused organizations in New England. The program has helped about 400 families and 700 children during its decade history. For the past six years, Lee has joined forces with FamilyAid to make holiday wishes come true.
"FamilyAid is serving numerous children and parents this holiday season, and Bernard and his children are helping give the gift of happiness and joy to families who need it most," said Larry Seamans, President of FamilyAid. "We are grateful to Bernard for six consecutive years of partnership and his dedication to bringing joy to these homeless children and parents."
This year, Lee and his family, which the sponsorship of RunGoodGear.com, has provided customized holiday packages for 38 local families experiencing homelessness. Each family received specific gifts for both adults and 60 participating children ranging in age from newborn to 16.
"The RunGood ambassadors are a special group of individuals who have assisted Bernard and his family in his mission to bring the holiday spirit to kids year after year," stated Tana Karn, President & Founder of RunGoodGear.com. "It's always heartwarming to see Bernard and the team answer the call to make the winter season special for these deserving families."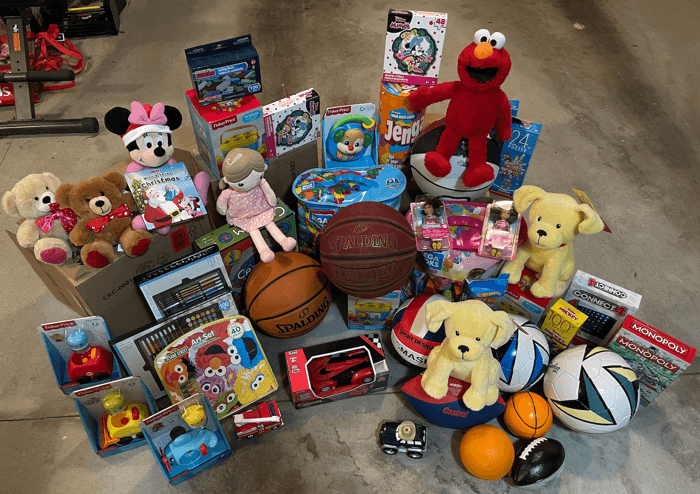 Toys for the Boston-area kids and families in need.
Gift packages, which were personally packed by Lee and his family, included winter clothing, books, toys, games, sports balls, and art supplies. Due to the COVID-19 pandemic, this year Lee delivered the gifts directly to FamilyAid, which in turn delivered them safely to the family's residences while practicing social distancing with safety measures.
"My family and I feel so fortunate to be able to pay it forward and make these families' holiday season a little brighter," said Lee. "This family tradition is the highlight of the year for me and my children, as we truly look forward to creating each customized gift package for the kids. I also want to truly thank two organizations: FamilyAid for working carefully though all the issues during this unprecedented pandemic so we can still provide these holidays gift packages and RunGoodGear, whose ambassadors have donated specifically requested toys year after year to be included in the kids' holiday packages."
About FamilyAid Boston
FamilyAid Boston empowers parents and caregivers facing homelessness to secure and sustain housing and build foundations for their children's futures. As a leading provider to families facing homelessness in Greater Boston, FamilyAid Boston offers a comprehensive set of programs and services including emergency shelter, housing supports, services for children, and is the city's largest provider of private homelessness prevention resources for families. Over the past year, FamilyAid Boston helped 1,600 homeless children and parents on their path to stable housing.
For more information on FamilyAid Boston, please visit familyaidboston.org.
*Images courtesy of Bernard Lee.