Day 3 of the $3,500 buy-in WPT Seminole Hard Rock Poker Showdown in Hollywood, Florida wrapped up Monday evening as the field of 99 players who started dwindled down to a final 16, with players remaining including Darren Elias, Viet Vo, James Calderaro and chip leader Mark Davis.
Here is some of the action that PokerNews caught throughout a tense and eventful Day 3.
Gavin and Kuo Fall; Shorr Eliminates Defending Champion
Day 3 action kicked off at noon on Level 21 with less than a hundred players and that number quickly dropped as hands played out across the Grand Ballroom at the Seminole Hard Rock.
At Table 16 sat poker coach Lexy Gavin and Natural8 ambassador Kitty Kuo as two of the four women remaining in the field, which earlier included the likes of Angelina Rich, Kristen Bicknell, Ema Zajmovic, Rania Nasreddine and Altynai Fung.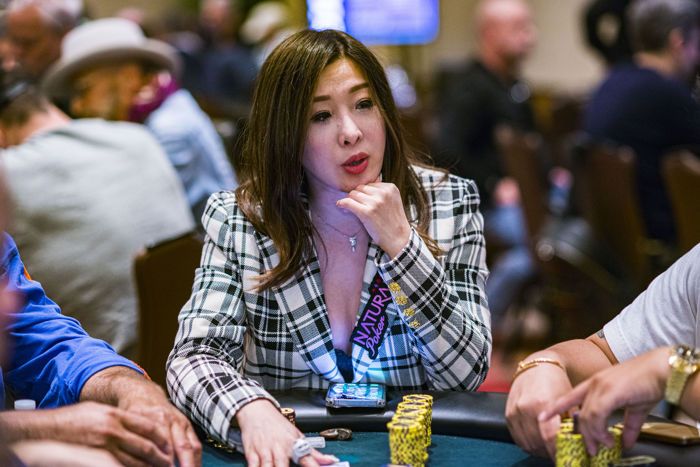 Kitty Kuo
"Two girls are always at the same table!" someone commented from another table. "It's hard to do."
About halfway through the level, Gavin hit the rail after a monumental cooler where her Big Slick fell to the Cowboys of Kumal Shah. Gavin went out in 91st place for a cash of $9,300. Not long after, Kuo was seen exiting the tournament area with a payout slip in hand.
Adam Hendrix, who PokerNews spoke with on Day 2, sat at Table 23 across from Jonathan Jaffe, who bowed out by the end of the level. In one hand at the pro-packed table, Hendrix defended out of the big blind after a raise from Ilir Rugova in late position.
The flop came
and Rugova continued with a bet of 55,000, which the deep-stacked Hendrix responded to with a check-raise to 160,000. His opponent called heading to the
on the turn. Hendrix sized up to 275,000 and Rugova ran through two time extensions before eventually folding and revealing the
.
"Good bet, man," he told Hendrix.
One table behind them, Shannon Shorr was getting involved in pots. In one hand, the cutoff opened and Shorr put in a three-bet. the cutoff then re-raised all-in for 800,000, and the Shorr sipped his morning beverage before tossing his cards in the muck. A few hands later, Shorr took down a sizable pot when his ace-jack was good at showdown on an ace-high board.
Seated to the immediate left of Shorr was defending champion Brek Schutten, who took down the Championship Event last year for $1,261,095. Schutten's consecutive deep run was cut short by none other than the player by his side when he lost a race with pocket eights to the ace-ten of Shorr.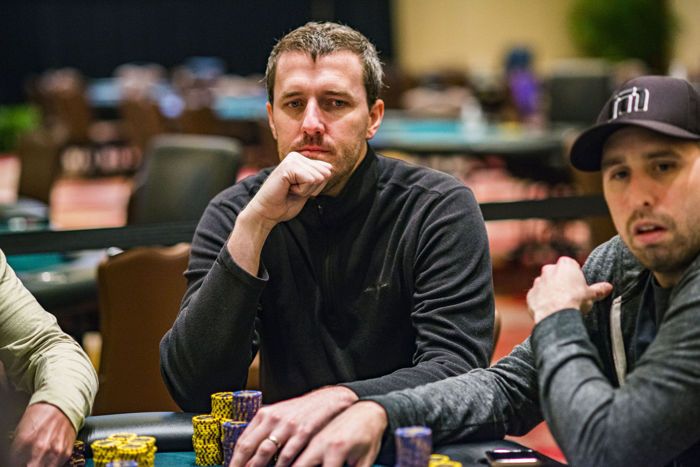 Brek Schutten
Shorr, who is after his first World Poker Tour title after making four final tables, took a moment during his break to chat with PokerNews about his hot start to Day 3.
"It's been pretty smooth so far," the all-time Alabama money leader said. I won a big flip (against Schutten) and that was kind of the story of the day so far. I'm up to about 2.3 (million)."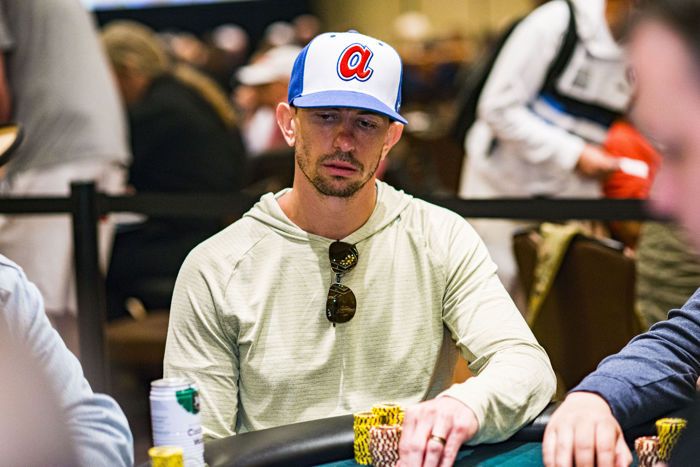 Shannon Shorr
Shorr recently took down the first event of the US Poker Open in Las Vegas to turn his $10,000 buy-in into $213,900 after getting through a stacked final table that also featured Daniel Negreanu and Erik Seidel, who also recently spoke with PokerNews.
"That was super cool," Shorr said on Monday. "I live in Vegas, so it's nice to just be able to commute and go play poker. Playing against the highest (level) and the toughest competition is super fascinating and a lot of fun. It's like a small player pool, a lot of us guys who have been around 15 years, so there's an innate respect that we all have for each other. So it's a vibe playing, and to get there and win is just a super cool experience."
After winning six figures, Shorr was ready to leave Vegas to take part in the South Florida action.
"I love coming down here at the Seminole Hard Rock," he said. "I really don't miss one (series here) unless I have to. Just super huge fields; the vibe in South Florida is incredible, obviously. And they're super well-run. I really enjoy it."
Berkey Battles at a Pro-Packed Table
Deep into Level 24, with only six tables remaining, a particularly stacked lineup emerged at Table 6, with the Bose headphone-sporting Hendrix in the one-seat and Berkey in his backward trucker hat four seats over in. On Berkey's immediate left was Shorr underneath an Alabama baseball cap.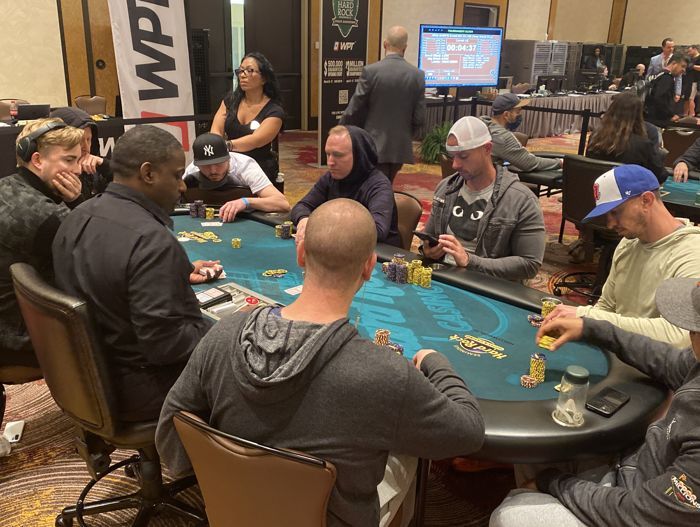 Adam Hendrix, Matt Berkey and Shannon Shorr battle
The Solve For Why founder chatted with PokerNews during the second break about his deep run in the Championship Event.
"It's been swingy," Berkey said about Day 3, adding that he was "right around where I started the day with," which was 1,915,000.
Just a few weeks ago, the Pittsburgh native took down BetMGM Pennsylvania's March Poker Mania Main Event to win $31,250.
"It was fun. I got to go to Pittsburgh for a little under a week just to stream some BetMGM events," said Berkey, who was an ambassador for the online series. "It's always nice to win a tournament."
He laughed before adding, "It's not a feeling I get all that often."
Berkey had no issue making the trip south to compete at the Seminole Hard Rock.
"Florida's always the best. I mean, the field's big, so it's obviously super high value. The structure is great, it's ran really well. It's an easy stop to make."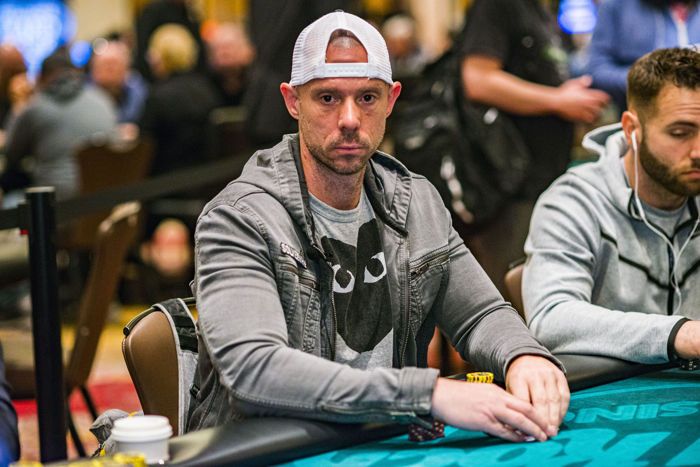 Matt Berkey
With the player pool shrinking and the top prize of $1,000,300 nearing, Berkey said he planned to stay focused and would choose his spots wisely.
"The field's obviously getting a little bit tougher and (the) average stack is a lot more shallow, so you're just trying to navigate," he said. "Thirty big blinds kind of plays itself and you figure it out from there."
Elias Busts Hendrix to End Day
A few dozen players dropped from the field as the day progressed, including the two that PokerNews spoke to on break. Shorr bowed out in 37th place to take home $24,000, while Berkey survived dinner break to finish in 21st for $34,000.
The energy in the back of the Grand Ballroom was intense as the field shrunk to just three tables. With only 16 players advancing to Day 4, Sean Ripp went out in 18th for $41,000 when he ran queens into the kings of Robert Lofaso.
Benjamin Miner was at risk of bubbling Day 4 when he opened to 1.3 million on the button with just 25,000 behind and got a call from Marcos Exterkotter in the small blind. Exterkotter thought his opponent was all-in and tabled
. Payout considerations in mind, Miner exhausted through five of six time banks before calling off and tabling
, showing himself in bad shape.
That changed when the board came
to pair his nine, and the runout of
was just an insult to Exterkotter.
"Can I get a picture?" Miner asked before the dealer washed the board after he hit quads to stay alive.
"That sucks," an annoyed Exterkotter muttered before taking a sip of a sugar-free Red Bull.
At another table, Hendrix completed in the small blind and the big blind, Darren Elias, checked his option.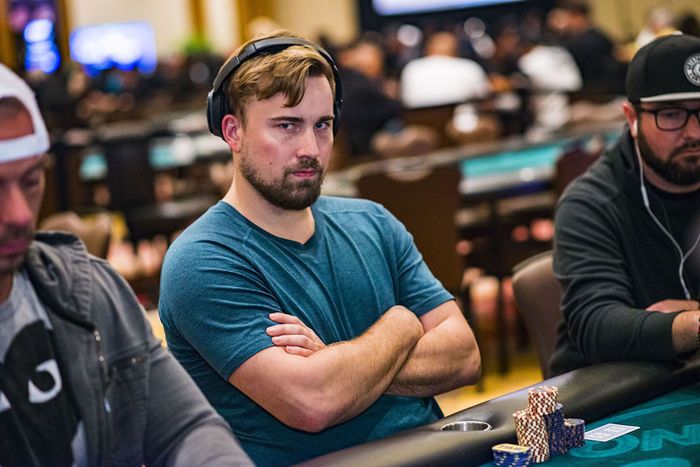 Adam Hendrix
The flop came
and Hendrix check-called a bet of 525,000 from the New Jersey pro. The turn brought the
and Hendrix checked again, only to check-jam after his opponent bet.
Elias snapped and tabled
for the nut straight. Hendrix could believe it and frustratingly tabled
for top pair to be drawing dead before the
river and to go out on the final two table bubble in 17th for $41,000.
17th with 16 bagging #####. So many final 2 and 3 tables in WPT it hurts.
— Adam Hendrix (@AdamHendrix10)
Day Four Seat Draw
| Table | Seat | Player | Count | Big Blinds |
| --- | --- | --- | --- | --- |
| 7 | 1 | Benjamin Miner | 4,800,000 | 48 bb |
| 7 | 2 | Dave Moore | 2,500,000 | 25 bb |
| 7 | 3 | Robert Lofaso | 6,450,000 | 65 bb |
| 7 | 4 | Andrew Davidson | 5,200,000 | 52 bb |
| 7 | 5 | Christian Harder | 2,350,000 | 24 bb |
| 7 | 6 | James Kousouros | 2,725,000 | 27 bb |
| 7 | 7 | Andrew Barfield | 8,775,000 | 88 bb |
| 7 | 8 | James Calderaro | 9,675,000 | 97 bb |
|   |   |   |   |   |
| 8 | 1 | Mark Davis | 14,400,000 | 144 bb |
| 8 | 2 | Michael Laufer | 9,300,000 | 93 bb |
| 8 | 3 | Vinny Pahuja | 1,725,000 | 17 bb |
| 8 | 4 | Viet Vo | 5,500,000 | 55 bb |
| 8 | 5 | Robert Georato | 6,100,000 | 61 bb |
| 8 | 6 | Marcos Exterkotter | 1,100,000 | 11 bb |
| 8 | 7 | Darren Elias | 13,775,000 | 138 bb |
| 8 | 8 | Carlos Dorca | 6,800,000 | 68 bb |
Action will pick up on Tuesday at noon local time and will play down to six. The final six players will finish the tournament on May 25 at Esports Arena Las Vegas at the Luxor at a televised final table. Follow along in the Championship Event with WPT's live updates.