Bryn Kenney, who earlier this year faced online poker cheating allegations, is set to launch an online poker site called 4Poker along with some former online poker senior executives.
According to an article on Poker.org, author Simon Young opined that the upcoming poker site "sounds a little similar to the PokerStars of old." He explained that the 4Poker team had worked together in the past.
The poker site still has yet to launch and the target date isn't official, although the company anticipates being up and running late in the current year.
Like any new poker site, 4Poker will be tasked with competing against the several industry giants — including GGPoker, 888poker and PokerStars — but the site does have the backing of some grizzled industry veterans, along with Kenney, the second winningest player in live tournament poker history with $57.2 million in cashes according to The Hendon Mob.
Whether or not Kenney's involvement will be a net-positive for 4Poker is yet to be seen. One thing is certain, however, and that is the poker site's chief operating officer, Heath Cram, has his back.
"I know Bryn has long and good relationships with the High Stakes poker community and people like Jason Koon, so he is in a good position as one of our ambassadors to help, as ironic as some may see that," he said in his Q&A with Poker.org, which recently announced the hiring of industry veterans Eric Hollreiser and Brad Willis.
Backing Bryn Kenney
Young interviewed Cram, a longtime PokerStars staffer with various job titles over the years, and asked him direct questions about the accusations against Kenney.
"I was shocked but also open-minded at this point – taking it for what it was – which was a social media outburst by a character of pretty questionable credibility to my eye," Cram said of the allegations.
He's referring to Martin Zamani, an admitted poker cheater himself, as the "character of pretty questionable credibility."
Zamani, who previously was part of Kenney's online poker staking stable, made some wild accusations against Kenney on Doug Polk's podcast earlier this year, in which he claimed that the high-stakes pro ghosted and encouraged others in the stable to ghost players online, used real-time assistance (RTA) tools, and colluded during online poker games.
Kenney then denied the claims in a 70-minute interview with PokerNews' Sarah Herring in April. Days later, Zamani shared a three-year long text conversation between Kenney and poker pro George Wolff that led many to begin believing Zamani's story.
PokerNews took a deep drive into the Telegram chat log and discovered that most of the conversation was harmless and irrelevant to the accusations. But we did find a number of comments that were quite damaging. Take, for example, the following screenshot that suggests Wolff would assist Zamani during a pot-limit Omaha tournament, a game that isn't Zamani's specialty.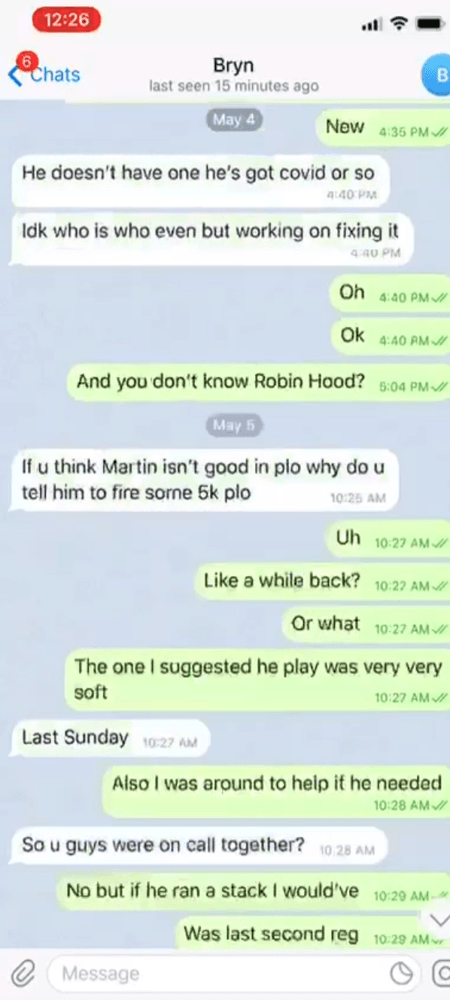 There were a number of other screenshots we provided in the article that, at the very least, lent some credibility to Zamani, who as previously mentioned is an admitted poker cheater.
When asked via text message multiple times if he disputes the authenticity of the Telegram conversation, Kenney didn't deny anything but instead attacked Zamani's character. Wolff, however, confirmed the chat log was authentic.
Judgment of the People
Still, Cram doesn't appear to be buying the allegations and said in the Poker.org interview:
"I'm not naïve to the industries I've worked in and players that play in horse racing, sports betting or poker. The truth is, as always, I'll make my own judgment of people, and in the past few weeks, I have had the pleasure of not only spending time with Bryn and other investors in person but meeting his family and loved ones. I frankly haven't spent time with someone with as much passion for poker and people since working for PokerStars' founding owners."
When asked if he buys Kenney's denial, the COO of 4Poker answered, "Bryn doesn't need my opinion of this, nor should anyone else in social, media, or worse yet, business circles be playing judge, jury and executioner with such an allegation."
Kenney, Zamani, Ali Imsirovic, Jake Schindler, and other accused poker cheaters all competed in multiple events at the 2022 World Series of Poker this summer, and now one of them (Kenney) is entering the online poker space from the operator's side. That likely won't sit well with many within the poker community.
You can watch highlights of Sarah Herring's April interview with Kenney here: