The 2023 PokerStars Players No-Limit Hold'em Championship (PSPC) attracted 1,014 players, a mix of poker pros and amateurs, many of who got in after winning a Platinum Pass. Also sprinkled throughout the field were a number of celebrities including UFC announcer Bruce Buffer, Survivor all-star "Boston" Rob Mariano, and David Costabile, who currently plays Mike "Wags" Wagner on Showtime's hit show Billions and also portrayed Gale Boetticher on Breaking Bad.
So how did one of the busiest actors in Hollywood find his way to the PSPC?
"Let me tell you a story – early, early days. In the pandemic, you remember that? We were all inside and there was a celebrity charity tournament that was set up through PokerStars," he told PokerNews. "And I got invited to that and through Brian Koppelman, who was my boss at Billions, and Hank Azaria was running it I won the tournament."
The tournament he was referring to was the Stars CALL for Action powered by PokerStars Charity Tournament in May 2020. Costabile defeated a field filled with A-list celebrities – including Breaking Bad co-stars Bryan Cranston and Aaron Paul – to win $100,000 to donate to World Central Kitchen, a charity that supplies food to those who most need it.
"They're working really hard in Ukraine to give people food and it's an amazing organization," Costabile explained. "I was so happy to be able to give them $100,000, I mean, that was awesome. Also, at that particular time, there was so much need going around. I really believe strongly in their cause."
Other celebs to participate were Amy Schumer, Michael Cera, Jon Hamm, Neymar Jr., Don Cheadle, Jeff Garlin, David Schwimmer, Edward Norton, Macaulay Culkin, Lisa Kudrow, Teri Hatcher, Kevin Pollak, David Arquette, Liam Payne, Ricky Williams, Jack Black, and Jason Alexander, among many more.
David Costabile Wins Stars CALL For Action powered by PokerStars – Charity Tournament
PokerStars Comes Calling
More than two years after his online win, Costabile was approached by PokerStars about the idea of coming down to the Bahamas and participating in the PSPC via a Platinum Pass.
"They called and said, 'You can win poker events, why can't you come and win this poker tournament?' And then I said, 'Yeah, can I come and win this poker tournament?' Then interestingly enough, that didn't happen this time. But I'm one for two. Right? So, that's Hall of Fame. What's the best batting average in the Hall of Fame? I might just call it a day. I mean, that might be my last tournament. You know, I won the first one, lost the second."
He continued: "I've played in smaller tournaments. I've certainly played in online tournaments before back in the Middle Ages. It was not on this particular scale and not so heavy with the professional poker players, the people who can spend their whole time playing poker. That's where it gets trickier for someone who just admires poker. I like to watch poker, I play poker, but I am not a professional. I'm a professional actor. You just got to know where you fit, how your puzzle piece fits, and then apply it."
As for the PSPC, Costabile was in the thick of things for most of Day 1. When asked if there were any big hands or spots, he didn't hesitate.
"Here's some advice for you as a poker player that I learned – when you're short stacked with about 20 big blinds and you're under the gun and you're playing with people who are leagues ahead of you and you get queens, instead of trusting your instinct that says to you, 'I should probably go all in at this point,' you think to yourself, 'Maybe I'll get tricky.' That feeling of I should get tricky. That's not a good feeling. That's not the voice to listen to."
Costabile, who lost that hand with pocket queens, wound up falling towards the end of Day 1 in Level 8 (600/1,200/1,200) while playing at the feature table. He got his last 8,200 in holding
in the small blind and was up against Antoine Saout's
in early position and Daniel Neilson holding
in the hijack.
The two active players checked down the board of
and Saout made a club flush to scoop. Costabile said farewell to his table mates before exiting the stage.
"There's nothing like being on television and having to play poker with people who are incredibly accomplished, who then recognize that you are the mark at the table and really, really want to get you," Costabile said. "It was fun. When they weren't trying to attack me, they were all very kind."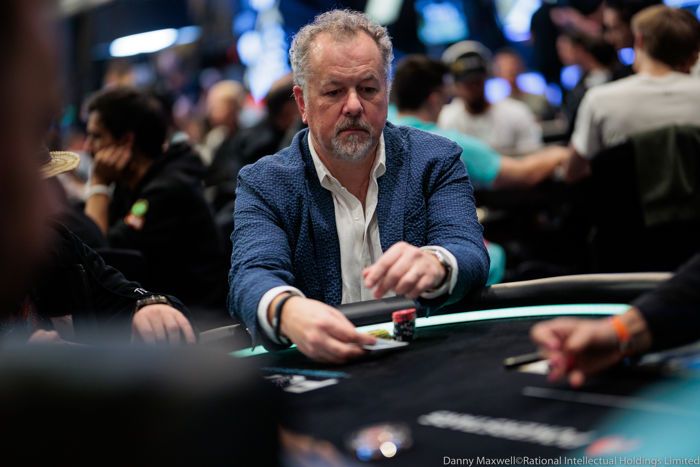 David Costabile in PSPC action.
What Character Would Make the Best Poker Player?
Costabile has played some classic characters over the years – including Daniel Hardman in Suits and managing Editor Thomas Klebanow on The Wire – so which one does he would make the best poker player in real life?
"I think Wags would probably be a great high-stakes cash player."
"Well, I do think Gale would probably, he was a great mathematician, so he would probably be a great tournament player," said Costabile. "I think Wags would probably be a great high-stakes cash player."
As for Costabile himself, he seems to be a little more like Wags than Gale, meaning he's far from quiet and reserved, rather a bit more boisterous and engaging.
"I've got to go back to New York and shoot a scene on Friday and so maybe I was a little more like Wags in that tournament," he admitted. "We're in the middle of shooting our seventh season of Billions and we'll be finished around the end of May, and then I don't know, I've got other things that I've just shot last year."
Cameo in NBC's The Office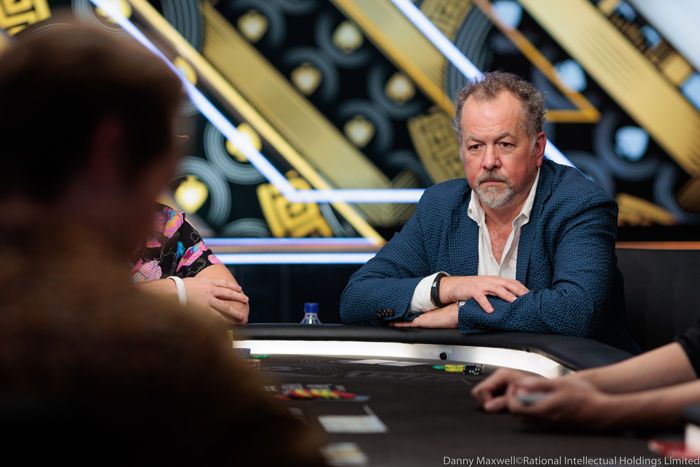 David Costabile at the PSPC feature table.
Another role that Costabile played was as "The Banker" in an episode of The Office, largely regarded as one of the best comedies of all time. PokerNews couldn't resist asking the story behind his appearance on the legendary mockumentary sitcom.
"Rainn [Wilson] and I are very good friends and we had been friends since college. We all had auditioned for The Office when it first came out and Rainn got it. It was awesome for him," Costabile explained. "I did not audition for Dwight, I auditioned for Jim. Not going to get that."
"There'll be more poker. I'm wounded but I'm not out."
He continued: "There was a group of us that were out working in Los Angeles at the time and we all auditioned … In the beginning, it was a really slow grind and NBC really kept it surviving and then it grew into something huge, which was awesome for them. I really had Rainn lobbying for me to be on the show. I really wanted to be on the show before it ended, so I got in, which was good."
Costabile's PSPC experience may not have ended in quite the same fashion as his charity tournament experience nearly three years earlier, and while he joked that walking away at this point would leave him with a good record, there's a solid chance the poker world will see more of him.
"Oh, yeah, there's gonna be poker for sure," he said with a smile. "I'll do some more studying. I'll really reconsider queens again, but there'll be more poker. I'm wounded but I'm not out."

Chad Holloway
Executive Editor U.S.
Executive Editor US, PokerNews Podcast co-host & 2013 WSOP Bracelet Winner.