Epicenter – Winchell Thoroughbreds' Epicenter continues to thrive in his training as he had another strong gallop Thursday morning under Roberto Howell leading into Saturday's Longines Breeders' Cup Classic (G1) at Keeneland. Should he win, he'd be the third Classic winner for his trainer Steve Asmussen and the second with a 3-year-old. He won the race in 2007 with Curlin, a 3-year-old, and in 2017 with Gun Runner, a 4-year-old. Both Curlin and Gun Runner were named Horse of the Year following their victories.
"If he beats the older (horses), he's fortunately Horse of the Year," Asmussen said. "Having the best horse in training, what is there to be more proud of? The opportunity is there. And is it easy? Absolutely not. Should it be easy? Absolutely not. I mean that that's what's so special about this. Everybody has showed up here in great shape. We've been so fortunate or blessed to be associated with all-time greats that helped teach us how to get here. The lessons learned from Curlin and Gun Runner allow us to just have that confidence level or a mind frame following what they've done."
November 3, 2022: Epicenter, trained by Steven M. Asmussen, exercises in preparation for the Longines Breeders' Cup Classic at Keeneland Race Course in Lexington, Kentucky on November 3, 2022. John Voorhees/Eclipse Sportswire/Breeders Cup
Flightline – Hronis Racing, Summer Wind Equine, West Point Thoroughbreds, Siena Farm and Woodford Racing's Flightline galloped 1 1/4 miles under Juan Leyva shortly after 6 o'clock Thursday morning.
The undefeated John Sadler trainee is scheduled for a similar exercise Friday morning and that will wrap up his preparation for the 1 1/4-mile $6 million Classic in which he will be ridden by Flavien Prat.
In a perfect five-for-five career in which he has won by a combined 62 ¾ lengths, Flightline has answered practically every question that could be asked.
"The mile and a quarter, that was the question before the Pacific Classic and he answered that," Sadler said of the 19 ¼-length victory. "There's not much more I can say."
Scheduled to arrive in Lexington Friday to kick off what could be a monumental weekend are Kosta and Pete Hronis of Hronis Racing.
They own Heywoods Beach, who runs in Friday afternoon's Thoroughbred Aftercare Alliance Stakes, as well as Breeders' Cup starters Edgeway (Filly & Mare Sprint) and Bran (Turf Sprint).
November 2, 2022: Flightline, trained by John W. Sadler, in the paddock in preparation for the Longines Breeders' Cup Classic at Keeneland Race Course in Lexington, Kentucky on November 2, 2022. Carolyn Simancik/Eclipse Sportswire/Breeders Cup
Happy Saver/Life Is Good – Wertheimer and Frere's Happy Saver, who missed a morning of training Wednesday because of a quarter crack in his left hind foot, jogged once around the main track at 6 o'clock Thursday morning with Humberto Zamora aboard for trainer Todd Pletcher.
"Happy Saver had a good morning this morning," Pletcher said. "He got stitched up, will go the paddock later this morning and gallop Friday morning."
CHC Inc. and WinStar Farm's Life Is Good galloped 1 1/2 miles under Amelia Green at 6:15 and also schooled in the paddock after training hours.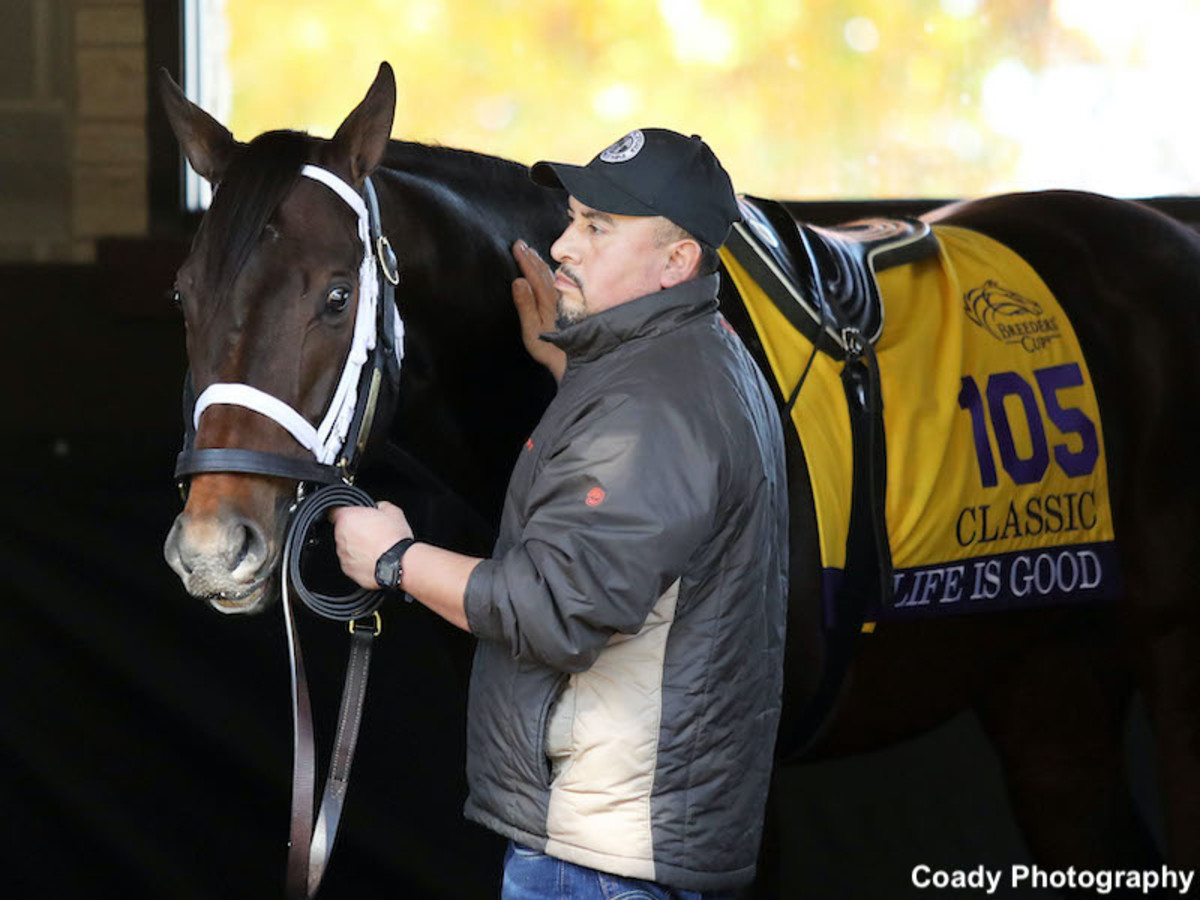 Life Is Good, with Martin Estrada, schooling in the paddock at Keeneland
Hot Rod Charlie – As the days until Hot Rod Charlie makes his second consecutive Longines Classic start dwindle down, the colt continues to turn in workman-like gallops for trainer Doug O'Neill. The 4-year-old son of Oxbow galloped another routine 1 1/8 miles Thursday morning under exercise rider Connor Murray.
"He trained well and cooled out well," O'Neill said. "We're all really excited and optimistic."
Hot Rod Charlie is set to break from post five on Saturday, directly outside of heavily favored and undefeated Flightline breaking from post four. The Longines Classic will be the first time the two colts have raced against each other. O'Neill is not a stranger to the buzz surrounding Flightline, but he remains optimistic.
"(Flightline) is worth every bit of hype," O'Neill said. "He's just a once in a lifetime type of horse. We have the blessing to watch him train every day at home (in California), and he's looked equally as impressive out here at Keeneland from what I've seen. He's without a doubt the obvious horse to beat, but Hot Rod Charlie's the blue collared, lunch pail, hard hat, show up every race type of horse. If something happens, and Flightline doesn't run his best race, and Hot Rod Charlies does, we could maybe shock the world."
Tyler Gaffalione will have the mount on Saturday following a win for the duo in the Lukas Classic at Churchill Downs in October for owners Roadrunner Racing, Boat Racing, Gainesway Stable and Strauss Bros Racing.
November 3, 2022: Hot Rod Charlie, trained by Doug F. O'Neill, exercises in preparation for the Longines Breeders' Cup Classic at Keeneland Race Course in Lexington, Kentucky on November 3, 2022. Scott Serio/Eclipse Sportswire/Breeders Cup
Olympiad – At just past 7 a.m. on Thursday, Longines Classic contender Olympiad left Keeneland's Barn 60 under Neil Poznansky and jogged around the clubhouse turn, walked through the paddock and then galloped a circuit of the Keeneland dirt. Owned by Grandview Equine, Cheyenne Stables and LNJ Foxwoods, the son of Speightstown must step up his game on Saturday in the $6 million test if he is to compete with the likes of Flightline and Life Is Good – two frontrunning horses he also will likely have to pass to win the race.
"Life Is Good has just tremendous speed, particularly away from the gate," trainer Bill Mott said. "He's the kind of horse who puts two or three lengths on them right away and if a horse has trouble picking up the chase, he can get a breather on the front end. With Flightline, he's a horse who maybe isn't quite as good out of the gate as Life Is Good. He has a little stutter-step leaving the gate, but it looks like after three or four strides, he gets himself together. I'm a fan and I love watching these kinds of races. You try to imagine what the outcome is going to be and how it will shape up."
Mott is pragmatic about Olympiad's chances against the aforementioned heavyweights, but also recognizes the proven value of his Grade 1-winning charge. An eight-time winner in 12 starts, he has won six of seven this year, including Saratoga's Jockey Club Gold Cup last out on Sept. 3. His lone loss was a fourth in the Whitney behind three horses he will face again Saturday, Life Is Good, Happy Saver and Hot Rod Charlie.
"It came up very hot and humid that day, probably the hottest day we had all summer," Mott said. "For some reason, he seemed to be very dull. That's the only explanation I have. Other than that, he's been perfect the rest of the year and he's run well against everybody we've put him up against. I would suspect he's going to run well again.
"I know how good (Flightline and Life Is Good) are, but I'm not going to rule (winning) out," he concluded. "You see things happen in horse racing all the time. Those are two great horses, but the thing you don't want to forget is that our horse is very, very good. He's really a good horse."
Assigned a morning line of 10-1, the earner of more than $2 million will break from post seven of eight under regular rider Junior Alvarado.
November 3, 2022: Olympiad, trained by William I. Mott, exercises in preparation for the Longines Breeders' Cup Classic at Keeneland Race Course in Lexington, Kentucky on November 3, 2022. Scott Serio/Eclipse Sportswire/Breeders Cup
Rich Strike – RED TR Racing's Rich Strike galloped once around under Gabriel Lagunes for trainer Eric Reed.
"When we came down the stretch past the grandstand and the people started calling his name, he got real strong," Lagunes said. "He knows his name."
Reed said Rich Strike may have a similar exercise in the morning or he may go twice around with a pony. Rich Strike schooled in the paddock after training hours.
Since Rich Strike won the Kentucky Derby at 80-1 odds, life has changed for Reed.
"I never thought I could have this much fun," Reed said. "I'm loving this because the horse is loving it."
Rich Strike has been one of the early arrivals in the morning for training and Reed also has had the chance to watch Flightline.
"He looks full of fire and ready to run," Reed said. "He's the only horse I see training like mine."
November 2, 2022: Rich Strike relaxes at Keeneland Race Course in Lexington, Kentucky on November 2, 2022. Carlos Calo/Eclipse Sportswire/Breeders Cup
Taiba – While praising the 3-5 unbeaten Classic favorite, Flightline, Hall of Fame trainer Bob Baffert said he could be pleased if Zedan Racing Stables' Taiba could replicate what his stablemate Medina Spirit did 12 months ago at Del Mar.
"Hey, I'll take second. It would be great, just like last year, " Baffert said. "Knicks Go, I knew we couldn't beat him, but Medina, he ran second. He beat the rest of the 3-year-olds. It'd be nice to me if I could beat the other 3-year-olds who are in the race like Rich Strike and Epicenter."
Should he finish ahead of the Kentucky Derby winner Rich Strike and Travers winner Epicenter, Taiba could keep himself in the conversation for the 3-year-old male division title. He is the only sophomore colt with two Grade 1 victories this season, the Santa Anita Derby and the Pennsylvania Derby, and was the runner-up in the Haskell.
Taiba and Baffert's four other Breeders' Cup horses galloped on the Keeneland track during what was a cool, foggy morning.
"They all look good," Baffert said. "The track is in fantastic shape. I really like the way they have it. That little rain I think helped it out. It's been great. Can't use that as an excuse. The weather's beautiful; can't use that and excuse. It all comes down to having the horses show up and run their races.
Baffert said he has gotten past Taiba drawing the rail in the eight-horse race and said the task is in the capable hands of Hall of Fame jockey Mike Smith.
"Once they draw the post, I don't really worry about it, because you can't change it," Baffert said. "He breaks well and then they run away from him a little bit. I think Mike's got him figured out now that he's just going to save ground. If he would have been on the outside he would have ended up being probably wide around the first turn. I don't know. You just don't know with him."
Baffert said the chestnut, who was purchased for $1.7 million at the 2021 Fasig-Tipton March sale, is a challenge.
"Taiba is sort of a difficult horse," Baffert said. "He's difficult to train. He's difficult to ride because he's just he's like a kid that's not going to do his homework. He's one of these that you've got to stay after him. But he's doing really well. He looks exceptionally well and I think he's going to get better as he gets older.
"I hope he's like his sire, Gun Runner. At 4 he turned into a great, great, great horse. I think he was that way, just didn't mature. He's getting there. He's growing. He's grown a lot since the spring. He's powerful and he likes to run at a target and he's got some some serious targets. Life Is Good, I think he's superior, like Flightline. I don't think there's a lot separating those two horses, myself, because I had Life Is Good and I know how good he is."
While Flightline is the obvious standout because of the way he has thrashed the competition in his five races, Baffert said this Classic has a strong field.
"I think there's some nice horses in there," Baffert said. "You've got Olympiad on his best day. Hot Rod Charlie's going to be right there. I think it's a really, really competitive race, even though Flightline, he's just been so brilliant and you can't take that away."
Baffert said he wasn't conceding the race to Fightline, but that it's hard to knock him since he has dominated the competition in every race.
"Race luck gets you beat," Baffert said. "If anything's going to get him beat, it's going to be racing luck. I've sent horses up there where they didn't get the trip, they didn't break or they did something and they get beat. On paper – I know they don't run the race on paper – but I think he's easily a good five lengths faster than all of us. It could be seven. It could be 10. I don't know."
Baffert again compared Flightline to his 2015 Triple Crown and Classic winner American Pharoah.
"He's an exciting horse to watch run. I've been watching him work," Baffert said. "He reminds me of Pharoah and the way he breezes just effortlessly. He just cruises around there. It's sort of fun watching a great horse train like him. Even though he hasn't had that many starts, I just give him the utmost respect. I know what greatness looks like, and, believe me, he is great."
November 3, 2022: Taiba, trained by Bob Baffert, exercises in preparation for the Longines Breeders' Cup Classic at Keeneland Race Course in Lexington, Kentucky on November 3, 2022. Scott Serio/Eclipse Sportswire/Breeders Cup