It may be a bit early to get excited about a potential Kentucky Derby horse, especially one that has yet to start in a graded stakes race.
When it's an undefeated colt who has won each of his two starts by five or more lengths, however, and he's also the first foal ever born on your farm, Roy and Jana Barbe have every right to indulge that excitement.
We The People (Constitution) was born on the Barbe's Henley Farms in Georgetown, Ky., on Feb. 26, 2019.
"We bought this farm because I was one of those little girls who loved horses and I never outgrew it," Jana explained. "We decided that all of my and my daughters' show horses, they took care of us for all those years, so it was time to buy a farm and collect them all so they could retire.
"I'm lucky because I married a man who embraced the dream and made it his own."
A former exercise physiologist and custom furniture builder, Chicago native Roy had no horse experience whatsoever prior to moving to the farm in 2012. While Jana continued to travel back and forth to Chicago for her job as a partner at the world's largest legal firm, Roy learned how to manage the farm.
"I was the butt of many jokes," Roy said, laughing. "You just have to jump into it. You develop such an amazing relationship with these creatures when you're hands-on… I decided to stick really close to the veterinarians, grab a bunch of books to learn how to take care of them, and I just went from learning how to muck stalls to delivering the babies.
"The neatest thing about this world is how everyone involved just has this shared affinity and love for all animals. It's amazing."
"He's really become this incredibly accomplished horseman, just by throwing himself into it," said Jana.
Though not involved in the Thoroughbred industry at the beginning, the Barbes made a connection with horsewoman Marilyn Little and her father, Marvin Little, Jr. They decided to invest in a couple of racehorses, and when Marvin passed away in 2017, the Barbes decided to go all-in.
Now, Jana jokes that the farm is "part old-age home, part nursery."
Roy adds: "As we like to say, that makes us the single-largest consumer of veterinary services possible."
We The People's dam, Letchworth, an unraced daughter of Tiznow from the family of millionaire Graeme Hall, is the first Thoroughbred mare the couple purchased for their boutique breeding farm. They acquired her for $40,000 at the 2019 Keeneland January sale with the Constitution colt in utero.
Luckily for the maiden breeders, We The People's birth was especially uncomplicated. Letchworth was turned out alone one evening and came in the next morning with her healthy colt by her side.
"She's formidable, a great mom," Roy said. "Two days later that foal was eating grass and grain because momma is a professional."
We The People with his dam, Letchworth
The couple nicknamed the colt "Buckworth" due to his propensity for kicking up his heels as he ran in circles around his mother.
"He was a handful, you'd turn your back and he'd run after you," Roy continued. "He loved playing with humans, and all the way up to doing sales prep with him we could never put another horse in front of him. He always had to be first."
The Barbes sold their colt at the same year's Keeneland November sale, realizing $110,000 for the weanling from Machmer Hall. Resold through both the Keeneland September sale and the Fasig-Tipton March 2-year-old sale, the colt is now owned by WinStar Farm, Siena Farm, and CMNWLTH and trained by Rodolphe Brisset.
In his first start at Oaklawn Park on Feb. 12, 2022, We The People was the only first-time starter in the field but couldn't have been more professional under Florent Geroux. He rallied three-wide and drew off to win by 5 ¾ lengths, completing a mile in 1:38.93.
One month later in a first-level allowance in Hot Springs, We The People showed a bit more patience when waiting to take the lead until the far turn. Given his cue by Geroux, the colt pulled away to win by five lengths, completing 1 1/16 miles in 1:43.66 over a main track rated "good."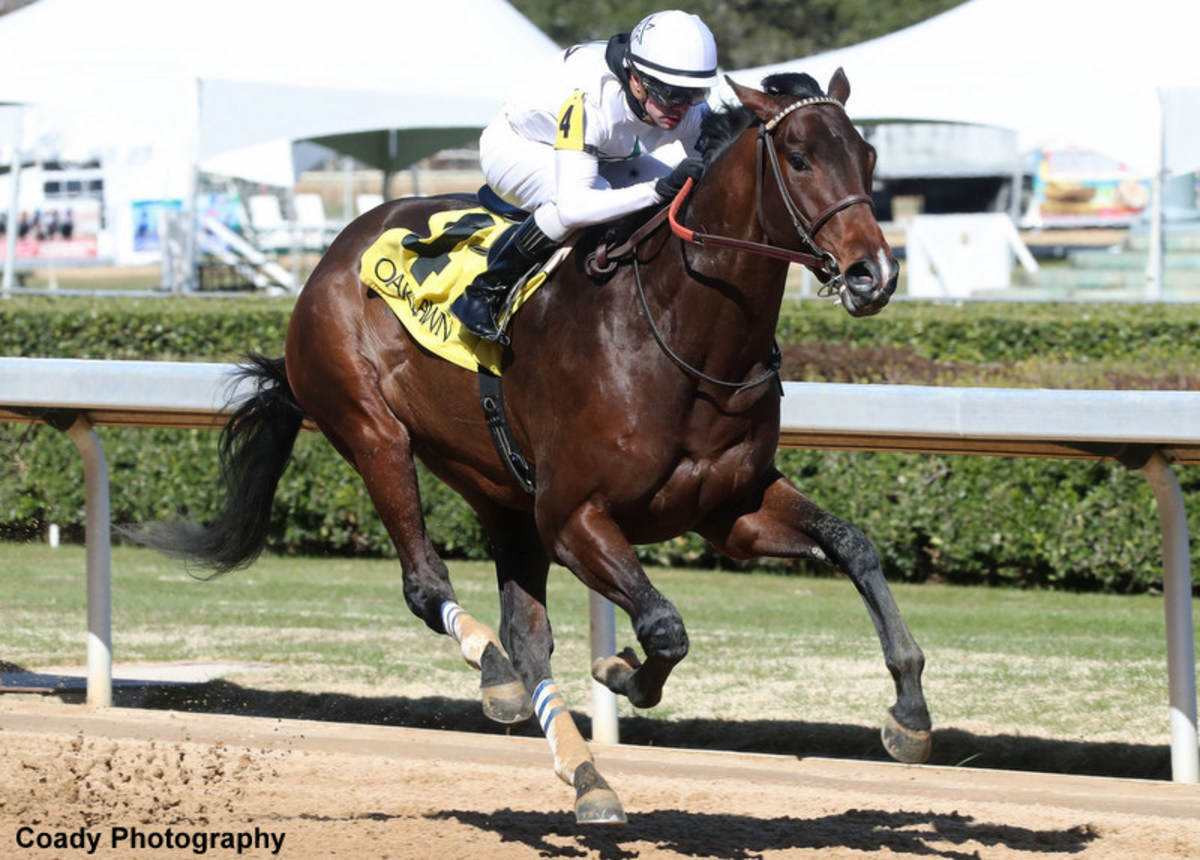 We the People
Now, connections are planning to enter We The People in the Grade 1, $1.25 million Arkansas Derby on April 2.
"We tell people we weren't in it to win the lottery," Jana said. "Our approach was to breed progeny that would be commercial, desirable, have good conformation and be likely to race successfully. We weren't gambling on breeding trying to get the next Kentucky Derby winner, which is why We The People is so cool."
It feels right to have such success on the farm named for Jana's late heart horse, a show hunter named Henley.
"I had a terrible fall, was carried out of the ring on a stretcher, and Henley was the one who taught me to ride and jump again," Jana said. "When you drive into the farm, you'll see a picture of Henley on the gate. He was my once-in-a-lifetime horse."
Today, they keep both their own retired horses and a few retired grand prix jumpers for a friend on the property alongside their burgeoning Thoroughbred program.
"Four of our geriatrics are still rideable; I ride them and so do my daughters when they come to visit, and they like to have a job," said Jana. "I like to say, 'I've lost a step, they've lost a step, so everybody's happy.'"
On the Thoroughbred side, the Barbes built their broodmare band slowly, increasing from three mares in 2019 to eight in 2022. Jana did most of the research into the mares' pedigrees, she explained, seeking the best, most-established broodmare sires and breeding them primarily to stallions that are fresh off the racetrack.
They don't plan to grow the herd too much more, however.
"Everyone has the option of going large quantity scale, but what we find when we visit some other places is that they become such herd animals and are not as well-adjusted to humans," said Roy. "Ours are socialized! They kind of get to explore that personal time, they are handled every single day, and we really get to see all the different personalities that just kind of shine."
For example, one of their current yearlings, a filly sired by Mendelssohn out of a daughter of Ghostzapper, is extremely strong and independent, seeming to believe she's above the antics of all the other babies.
Another colt has developed a reputation for jumping over his four-foot paddock fence, going uphill.
Though most of the foals will be sent through the sales ring, the Barbes keep close track of every horse they've bred.
"We want to be the type of breeders that, in the event there's not a place for our horses in the Thoroughbred world, we want to offer them a home back here," Jana explained. "We care deeply about it. We're a small, boutique farm; we've got the land, we care a lot about all of our animals, and we wouldn't want to see anything bad happen to them.
"We get told that our horses know how to take treats, to give kisses," she continued. "We're here because we want to live with our horses. They always have a home here."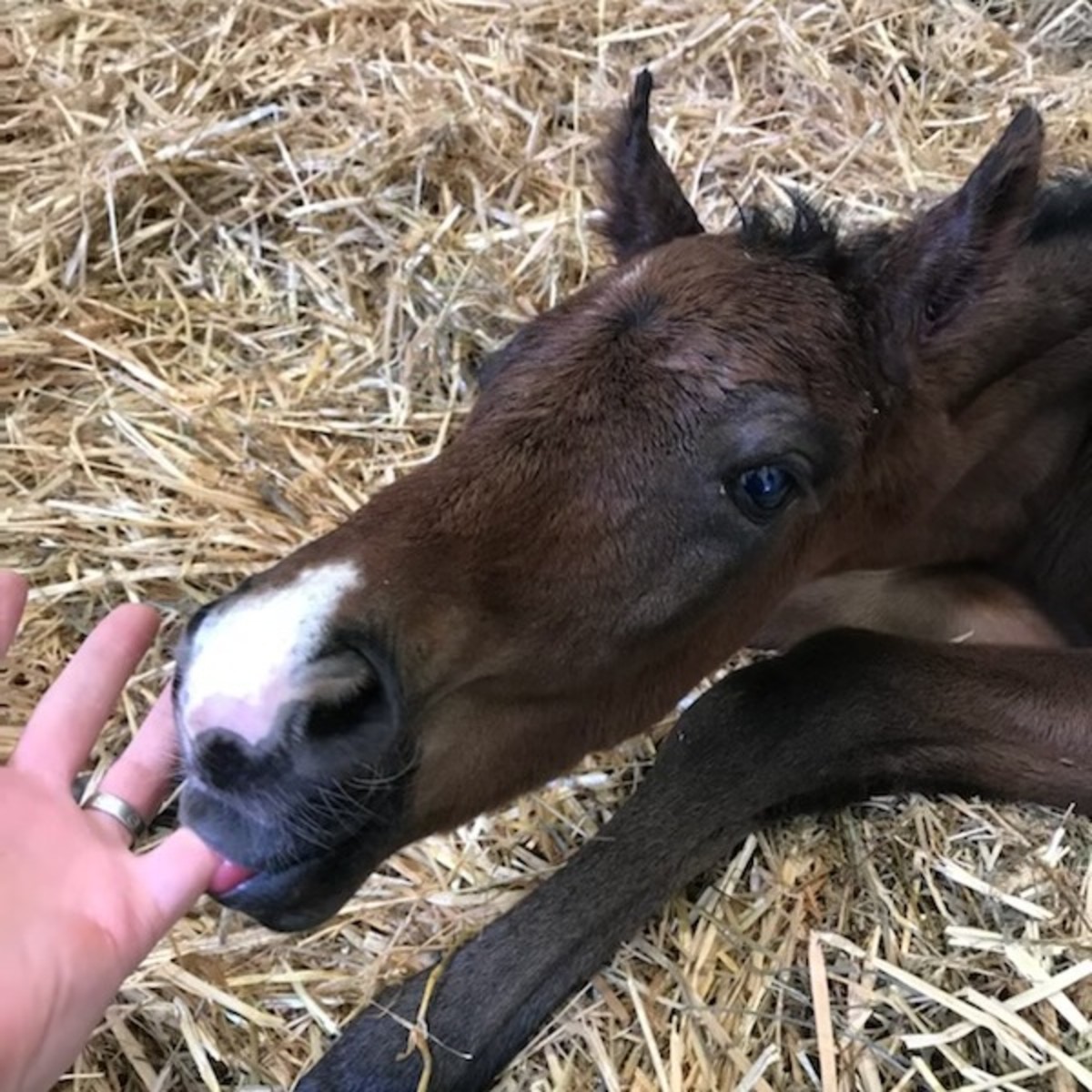 We The People as a foal