Near the conclusion of two-time Eclipse Award winner Monomoy Girl's career, the following suggestion was made to breeder Brendan Gallagher: "You want to enjoy it while it's happening, because it's never going to happen again."
"Well, I said to that person, 'If I really thought it would never happen again, I'm not so sure I'd keep doing this.'"
Just over two years later, Gallagher was delighted to watch another graduate of Frankfort Park Farm breeding program reach graded success on the racetrack: despite a disastrous break, 3-year-old filly Cairo Consort rallied hard to win the Grade 3 Sweetest Chant Stakes at Gulfstream Park.
The filly hasn't quite reached the same dizzying levels of success as Monomoy Girl, but her gallant win lent credence to Gallagher's strong optimism for the future.
"It's good to see that on a Saturday afternoon; that's why we do what we do," Gallagher said. "To see a horse that you raise and can race to that level, it's really something. We've been lucky enough to breed some good ones, but I honestly believe there are more in the pipeline. I can't say where they're going to come from, but I truly believe that. All you can do is go with your hunches and do the best you can."
Gallagher, 58, and his wife Olive have owned and operated Frankfort Park Farm off Old Frankfort Pike in Lexington, Ky., full-time since 2010. They are co-breeders of Monomoy Girl, , alongside Michael Hernon's Highfield Ranch, as well as graded stakes winners Take Charge Paula, The Tabulator, and Yuvetsi.
After graduating from the Irish National Stud Program, Gallagher made his first trip to the United States in 1983, continuing his education at the University of Kentucky and working at Gainesway Farm. Upon his return to Ireland, Gallagher spent the next eight years as the assistant manager at Coolmore's Kilsheelan Stud.
In 1993, Gallagher and his wife launched Emerald Bloodstock Services Limited, which soon grew into one of the leading bloodstock agencies in Europe.
"It was a good education," Gallagher said. "[Coolmore] wasn't as big in my time there, you know. In fairness, John Magnier has changed the industry worldwide. For me, with the agency and everything, I'm just happier doing what I'm doing now, being hands on every day. I'm not so sure I'd be doing what I'm doing if I wasn't hands on."
They purchased Frankfort Park Farm with a few partners in 2006, utilizing the location to quarantine horses before shipping them overseas, but quickly discovered how difficult it was to properly run a farm from across the ocean.
By 2010, the Gallaghers had sold their bloodstock agency and bought out their partners in Frankfort Park Farm.
"Where we are situated now is, I believe, the best place in the world to raise Thoroughbreds," said Gallagher. "Right where we are, within four or five miles, are the biggest, most successful farms in the world."
Jorje Abrego, left, gives Monomoy Girl a kiss after her victory in the 2020 Breeders' Cup Distaff
Monomoy Girl certainly put the farm on the map very quickly. Gallagher spotted her dam, Drumette (Henny Hughes) at the 2014 Keeneland November sale. The mare's $75,000 price tag has more than paid dividends.
Drumette was in foal to Tapizar at the sale, and foaled out the chestnut filly who would become Monomoy Girl on March 26, 2015. Beautifully proportioned, the filly was "highly strung" and required careful handling during her formative years.
Monomoy Girl sold for $100,000 as a yearling at the Keeneland September sale, and built a resume of 14 wins and three seconds from 17 starts, with earnings of $4,776,818. Highlights included a pair of Eclipse Awards and two Breeders' Cup victories, the second coming after a return from a lengthy layoff.
Drumette produced three more foals for Gallagher before she was sold in foal to Mastery at the 2018 Fasig-Tipton Kentucky Fall Mixed sale for a whopping $1.85 million.
Meanwhile, Cairo Consort's dam, Absolutely Awesome (Street Cry), was a $200,000 purchase from the Robsham dispersal and consignor Lane's End at the 2013 Keeneland November sale.
"I mean it's a massive pedigree," Gallagher explained. "She's out of a half-sister to (millionaire) Awesome Maria, her second dam produced Discreet Cat. We were delighted to have her."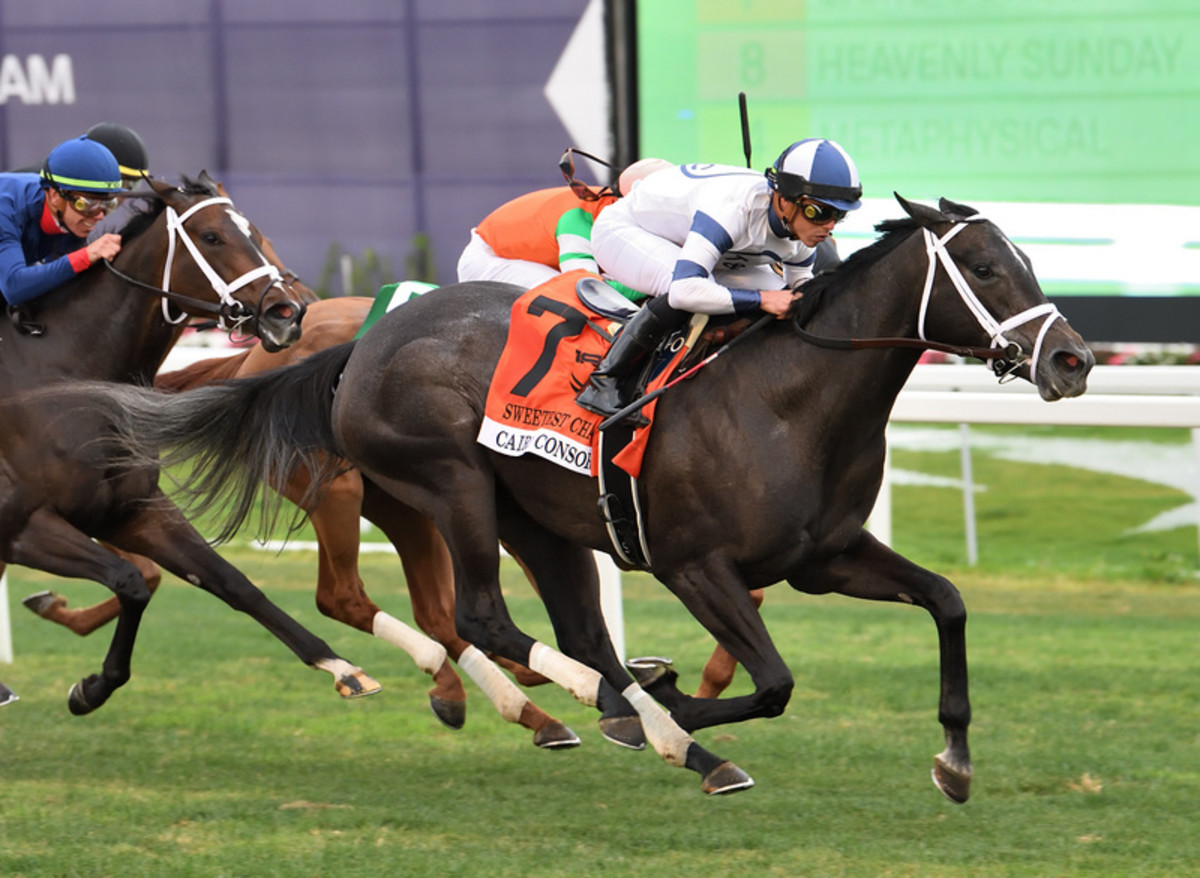 Cairo Consort and Irad Ortiz Jr. winning the Sweetest Chant
Cairo Consort is the mare's third foal, and sold for $95,000 at the Fasig-Tipton Kentucky Fall Yearling sale. Just over a month into her sophomore season, the filly has already won four of her eight career starts for earnings of $430,449. The highlight of her resume may be a third-place finish in the Breeders' Cup Juvenile Fillies Turf last fall at 19-1 odds, when conditioned by young trainer Nathan Squires.
After the Breeders' Cup, Cairo Consort sold for $875,000 at the Fasig-Tipton Kentucky Fall sale to Repole Stable and Town & Country Racing. Now conditioned by Hall of Famer Todd Pletcher, the filly is undefeated through two starts in 2023.
Absolutely Awesome lost a foal last year, but is booked to Constitution during the 2023 breeding season. Gallagher has attempted to hold on to much of the family, including buying into Cairo Consort's half-sister, Tayef.
Watching the success of his program on the racetrack is a big thrill for Gallagher, who said it's afternoons like Saturday that make those frosty 3 a.m. problem foalings worth every minute. At age 58, Gallagher has been asked several times when he'll be ready to slow down.
"Well, I need to be under a bit of pressure to be really motivated," he joked. "We foal around 35 mares, of which we own nearly 27 or 28 of them ourselves. There are around 70 horses on the farm, and it'll be just over 100 after foaling out. Of those, 75 percent or 80 percent are ours."
Beyond late-night foaling calls, Gallagher spends most of his days working with the reproduction vet on the mares or with the blacksmith, keeping the yearlings and foals on the right track.
"It's really all the little things that make the difference," Gallagher said. "I believe nature wants to give you its best and sometimes we do a very good job of messing it up.
"There are definitely some things in breeding horses that are overlooked. Horses need to be happy and the lads need to love them. I know that sounds crazy, but it's really true.
"We've been lucky enough we bought mares with little issues, and you never know what you might get; they can throw very good foals. I'm hoping there's more in the pipeline."