Posted on: January 26, 2023, 07:11h.
Last updated on: January 26, 2023, 07:11h.
Colombia's gaming regulator, Coljuegos, has presented the results of the industry's financial contributions for last year. The bottom line is that the industry is strong and revenue is on the rise.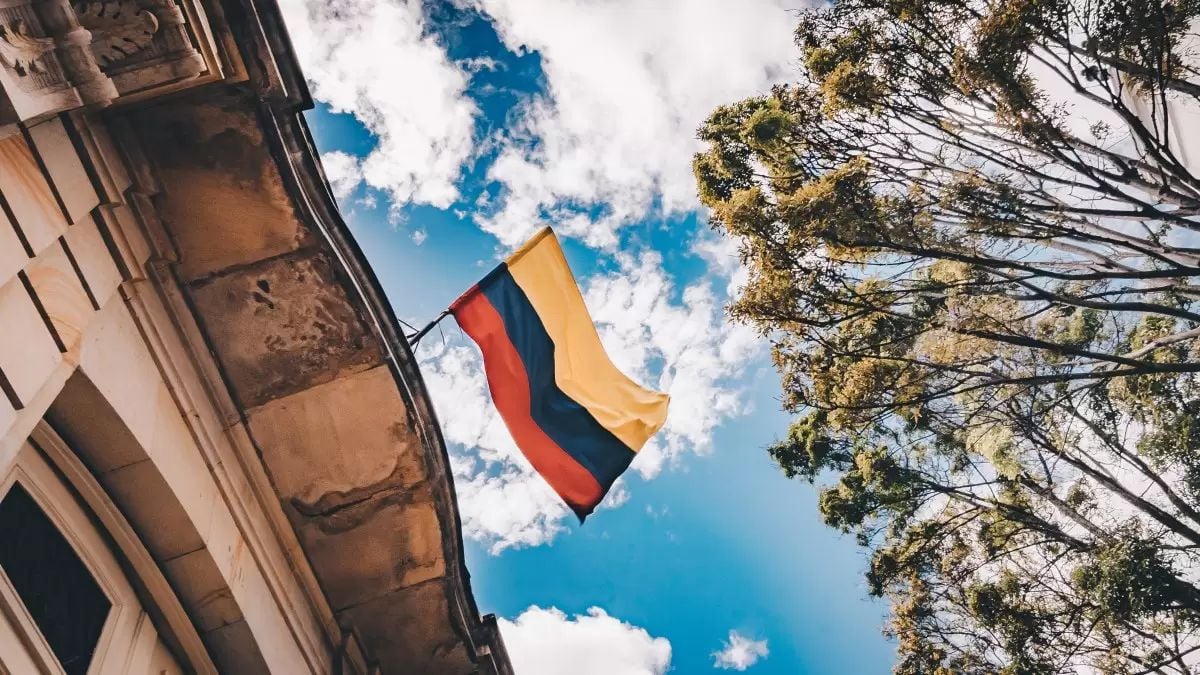 Colombia's flag flies outside a building. The country's gaming industry remains strong, delivering record revenue last year. (Image: Unsplash)
In total, Colombia's gaming industry gave the country COP796.53 trillion (US$174.52 million). This achievement marks growth of 18% over the results of 2021.
Specifically, just for December, the amount was COP76.66 trillion (US$16.82 million). The month's performance was the primary factor for the year-on-year increase, as it represented 26% growth over December 2021.
All Verticals Perform Better
The largest contribution came from casinos and bingo parlors, which provided COP319.71 trillion (US$70.3 billion). This growth of 33% was the result of an increase in electronic slot machines as the land-based gaming footprint swelled by 14%.
The iGaming segment contributed COP255.37 trillion (US$56.16 million), as well. Lottery products such as Baloto Revancha and Super Astro also proved popular, respectively contributing COP53.63 trillion and COP120.29 trillion (US$26.45 and $11.79 million).
In terms of sales of regional lottery options, including lottery operator Gana's Raspa&Listo, Coljuegos indicated that the segment provided COP3.43 trillion (US$754. 17 million). This represents a year-on-year improvement of 22%.
Of this total, the Chance lottery, the oldest in Colombia, contributed COP2.24 trillion (US$49.18 million). Raspa&Listo, an option Gana introduced at the end of 2021, added COP436.64 trillion (US$96.02 million).
Raspa&Listo is a scratch-off, instant-win lottery option. It has become extremely popular in Colombia, according to Coljuegos, beating sales projections by 150%. It began in the Colombian departments, or states, of Antioquia, Santander, Tolima and Huila, and the ability to immediately collect winnings has proven successful.
Colombia's health system is the biggest benefactor of the country's gaming industry. As a result of the increased performance last year, the industry provided COP737.87 trillion (US$162.27 million) to the system.
That represents year-on-year growth of 42%, with various entities receiving a percentage. COP480.66 trillion (USD105.7 million) went to the Administrator of the Resources of the General Social Security System in Health and COP150.36 trillion (US$33.06 million) went to municipal and departmental funds.
In addition, the National Pension Fund of Territorial Entities received COP61.57 trillion (US$13.54 million). Lastly, the Ministry of Science, Technology and Innovation, formerly Colciencias, received COP45.27 trillion (US$9.95 million).
Participation In Gambling, Betting Continues To Rise
Logically, the improvements come from an increase in interest in gambling, and sports betting is gaining ground, as well. In general, people's interest in sports betting and online casinos is high, with at least seven million registered accounts, according to Coljuegos data.
In addition, according to estimates, users in Colombia spent between COP50,000 and 65,000 (US$10.96 and $14.24) a day on bets last month.
The gaming sector in Colombia posted growth in 2022 of up to 50% compared to the previous year. These have an increase in revenue ranging from 46% for sports betting and up to 66% for casino games.
The Colombian sports betting market reached an all-time high during this latest edition of the 2022 World Cup in Qatar. More than 100,000 sports bets were made daily in the country through online and retail sportsbooks.
As a result of the performance of the gambling industry in the country, Colombia is among the top three countries with the highest volume of gambling in Latin America. The constant growth over the past few years doesn't appear to be slowing down, with Coljuegos expecting even better results this year.