Only six players remain at the end of Day 4 at the $3,500 buy-in WPT Seminole Hard Rock Poker Showdown in Hollywood, Florida with four-time World Poker Tour Champion Darren Elias out in front with over a third of the chips in play.
Joining the all-time WPT leader for the televised six-handed final table at Esports Arena Las Vegas at the Luxor on May 25 on the quest for the top prize of $1,000,300 will be Mark Davis, Marcos Exterkotter, Michael Laufer, Andrew Barfield and Viet Vo, who has now final-tabled the two largest WPT Main Events in history after finishing third in last year's event for $1,261,095.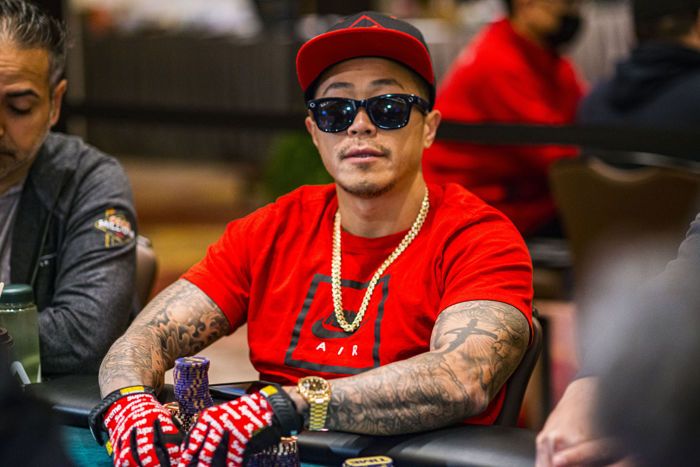 Viet Vo
Remaining Players in WPT SHRP Showdown
| | | | | |
| --- | --- | --- | --- | --- |
|   | RANK | PLAYER | CHIPS | BIG BLINDS |
|   | 1 | Darren Elias | 38,825,000 | 129 |
|   | 2 | Mark Davis | 26,550,000 | 88 |
|   | 3 | Viet Vo | 11,925,000 | 39 |
|   | 4 | Marcos Exterkotter | 10,900,000 | 36 |
|   | 5 | Michael Laufer | 6,750,000 | 22 |
|   | 6 | Andrew Barfield | 5,500,000 | 18 |
Below you can read about the action that PokerNews caught during Day 4 of the Championship Event, which attracted 2,010 runners and generated a massive $6,432,000 in prize money to smash the $3 million guarantee.
Moore First Out, Pahuja Next to Go
The day began with just 16 players who returned to blinds at 50,000/100,000/100,000. James Calderaro walked to the other table to shake the hand of fellow World Poker Tour Champion Elias, who started the day second in chips and was seated two spots to the right of chip leader Davis, who just a few weeks ago took down the WSOP Circuit Cherokee Main Event to win $334,678.
Vinny Pahuja was at risk of being the first player to fall on Day 4 when he got it in with
against the
of Michael Laufer, but a runout of
kept the short stack alive with a rivered straight.
"Sorry guys. I know who you were rooting for," Pahuja said as he raked in the pot.
"I'm rooting for you, man," Elias said quietly from across the table.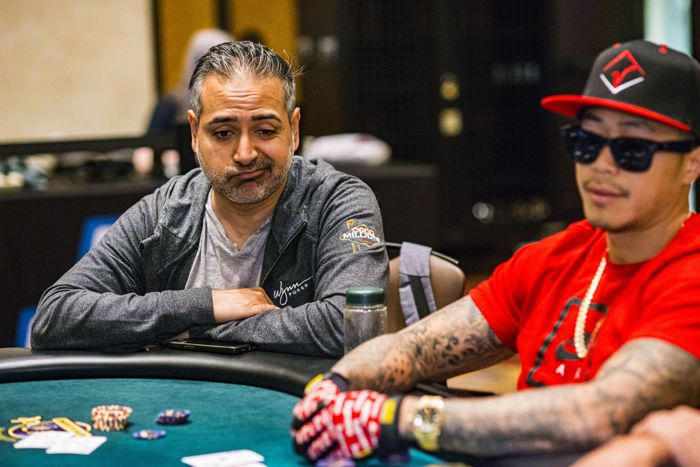 Vinny Pahuja
It was James Kousouros who would go out in 16th for $51,000 when he moved all-in from early position and got two callers in David Moore and Andrew Davidson. Unfortunately for Kousouros, he was dominated with
against the
of Moore, who himself was dominated by the
of Davidson.
A runout of
locked up the pot for Moore as the case ace gave him two pair and Kousouros hit the rail.
"Wow, how does an ace come?" someone at the table asked.
After first break, Pahuja was once again a coin flip away from defeat when he got it in with
against the
of Vo. It looked like Pahuja would again double up when the flop came
and the
didn't change much, but the
on the river prompted and "oof" from Pahuja, who went out in 14th Place for $63,000.
Free to Play Slots in the US
Big Stacks Build Towers; Elias Talks 5th WPT Title Chase
As players began dropping from the field, an array of different chip arrangements emerged among the big stacks.
Davis, who had recently grown his stack to 21 million after winning a flip to eliminate Robert Georato in the 13th place, constructed a horizontal wall of chips in front of him that consisted of six stacks, each of them 40 chips tall, a strong castle defense system to protect from the artillery of his opponents.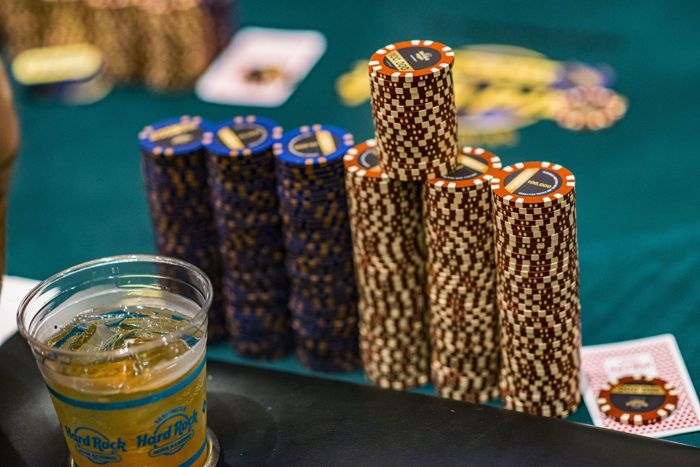 Mark Davis' chip stack
Two seats over, Elias had built a mountain with his 16 million in chips, with stacks of purple 25k-chips serving as the base and the maroon 100k-chips stacked on top to make up the upper range and peak of Mount Elias.
At the other table, Davidson had arranged his stacks of 20 in a neat square that bore resemblance to New Mexico. Before too long, the stack had taken on an outward growth that made it look more like Oaklahoma. Barfield, meanwhile, had arranged his chips in a more traditional three-pointed triangle.
Elias took a moment the chat with PokerNews during the second break about his deep run as he looks for a record-setting fifth WPT title.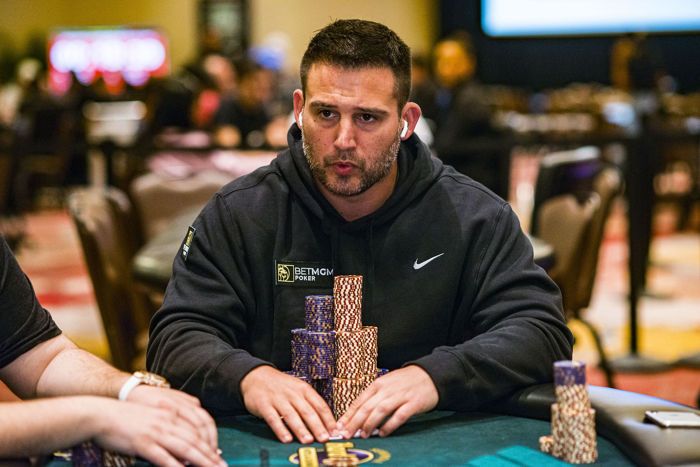 Darren Elias
"I got up to about 18 million and lost a little back that level, so I think I'm around 14 million, about where I started," Elias told PokerNews. "No huge pots yet, just kind of feeling everybody out."
With ten players remaining and a final table redraw at nine left, which Elias noted "will change the dynamic," he was ready to adapt his strategy.
"I'm going to have to play a little tighter because we're playing nine-handed instead of five, so that's a big difference. (There's) also some players at the other table that I haven't played much with in the tournament, so I'm going to have to see what they're up to."
Final Table Commences After Lofaso Busts
Robert Lofaso was eliminated on the final table bubble when he three-bet shoved from the big blind holding
, only to get called by the
of Moore. The board ran out
to pair Moore's jack and to send Lofaso out in 10th place for an even $100,000. Grateful for his deep run, Lofaso wore a big grin as he left the table.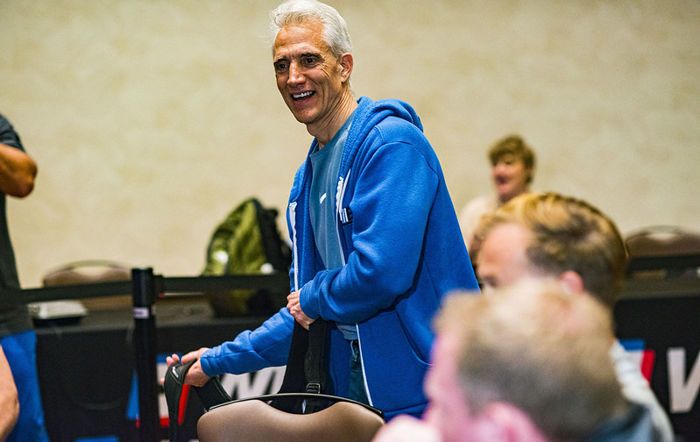 Robert Lofaso
Davis and Vo both sat quietly on one corner of the final table, which now featured glimmering opal plaques worth 500k apiece, behind two pairs of black sunglasses (Vo was also sporting a fashionable pair of red and black Supreme cycling gloves), while WPT Champions Club members Elias and Calderaro were seated side-by-side across the table.
One of the biggest pots of the day took place during eight-handed play as Elias saw a flop out of the big blind against Davidson and Davis in early position. Davidson bet 900,000 on the flop of
and Davis flat-called, while Elias check-raised to 3.4 million. Davidson folded and Davis called from behind his stack that had since morphed into what looked liked an archer's tower.
Elias moved all-in for 8.5 million on the wet
turn and Davis used through his final time extension before folding just as the buzzer sounded to ship a pot filled with a dozen plaques to Elias.
With the hand came a shift in momentum that brought more chips to the four-time World Poker Tour Champion's stack. Late in the night, Elias opened from under the gun and two players flatted before Calderaro three-bet shoved from the big blind. Elias re-shoved and both callers folded.
Elias tabled
to the
of Calderaro, who had just been told that some of his outs had been folded. The board ran out
to send Calderaro out in eighth for $125,000 and to give Elias a commanding lead.
Davidson Bubbles Televised Final Table
In the final hand of the day, Davidson opened in the cutoff and got a call from Davis on the button. Davidson continued on the flop of
and his opponent called. Davidson then check-jammed on the
turn and Davis snap-called with a larger stack.
Davidson revealed
, which was in bad shape against the trips of his opponent holding
. The
on the river didn't improve Davidson's hand and his dreams of playing at a televised final table in Las Vegas were cut short.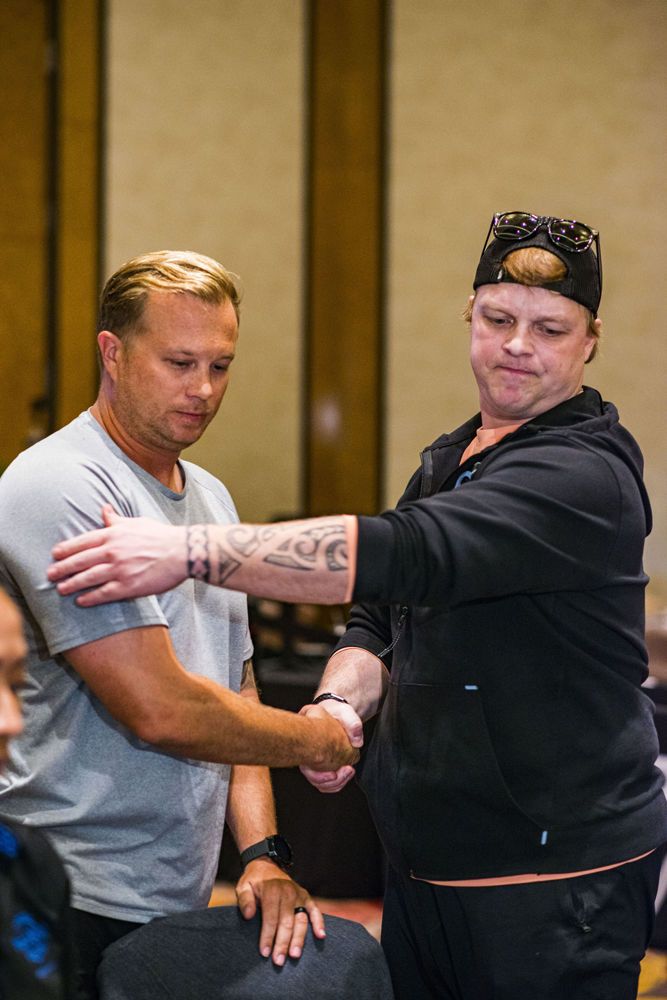 Andrew Davidson
Read up on all of the action that has taken place so far at the WPT Seminole Hard Rock Poker Showdown with the WPT's live updates.
Remaining Payouts
| | | |
| --- | --- | --- |
|   | PLACE | PRIZE (IN USD) |
|   | 1 | $1,000,300 |
|   | 2 | $660,000 |
|   | 3 | $490,000 |
|   | 4 | $370,000 |
|   | 5 | $280,000 |
|   | 6 | $215,000 |