Posted on: February 27, 2023, 08:14h.
Last updated on: February 27, 2023, 08:14h.
The former leader of the Oglala Sioux Tribe, which operates the Prairie Wind Casino on its Pine Ridge reservation in South Dakota, is facing federal wire fraud, larceny, and embezzlement charges.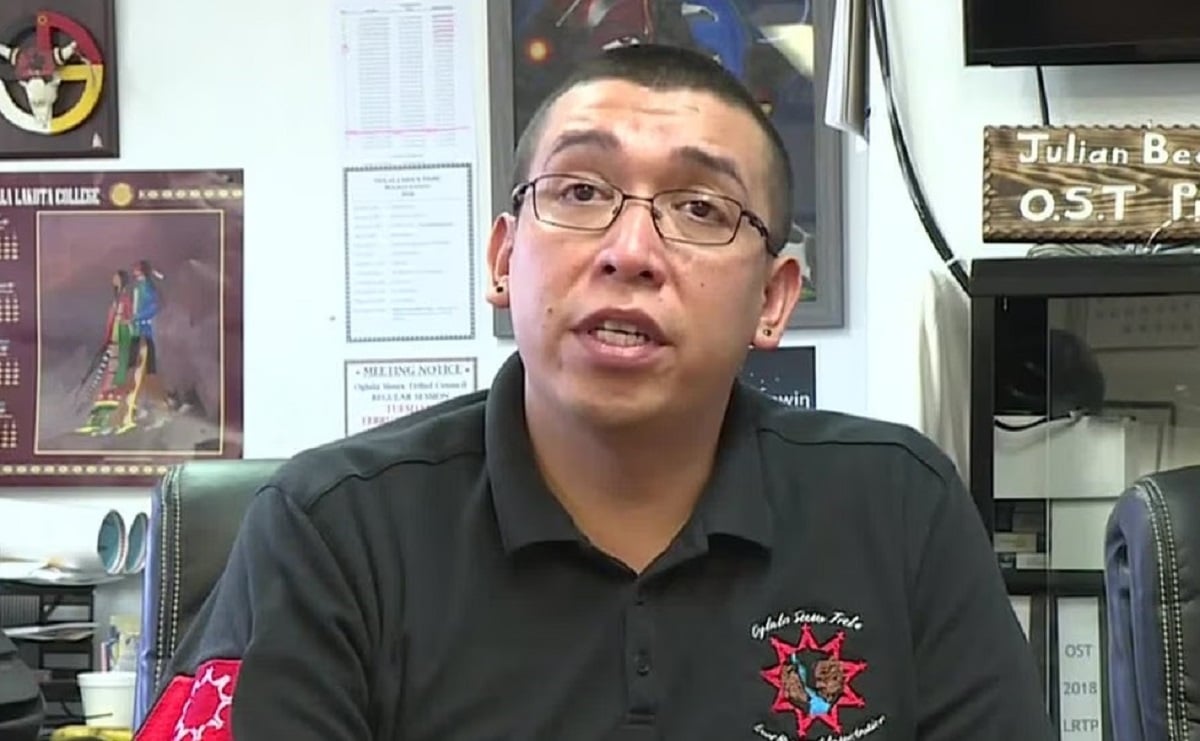 Julian Bear Runner was the second youngest president of the Oglala Sioux, but his tenure was mired in controversy. Now he faces serious federal charges. (Image: KOTA)
Julian Bear Runner, 37, was president of the tribe for little more than a year. But during that time, he managed to embezzle more than $80,000 in tribal funds, according to a federal indictment, unsealed Thursday.
He used the funds as his own personal piggy bank, which included "cashing the checks and spending the money at the Prairie Wind Casino," per the indictment.
The ex-president is accused of submitting fraudulent vouchers in order to receive checks from the tribe for work-related trips that were never taken. He denies the charges,
'Scheme to Defraud'
Bear Runner became the second youngest leader of the Oglala Sioux on his November 2018 election, but immediately after taking office, he engaged in "a scheme and artifice to defraud the Oglala Sioux Tribe and enrich himself," according to court documents.
Beginning in January 2019 and continuing through January 2020, Bear Runner began scheduling official travel and receiving checks for related costs when in fact he was not traveling or incurring the costs of airline flights, hotels, or food," reads the indictment.
"Despite knowing he had not traveled and that he was not entitled to the travel funds, Bear Runner fraudulently submitted vouchers claiming he was going to travel and was entitled to travel funds," it adds.
Checkered Legal History
Bear Runner's tenure was dogged by controversy. He backed progressive causes within the tribe, such as same-sex marriage and legal marijuana, while opposing legalizing alcohol in casinos.
But in May 2020, he was arrested on the reservation for drunk driving and assault.
In July of that year, he was suspended from office for 30 days after council members were aggrieved that he made himself unreachable after issuing a 72-hour lockdown during the pandemic, The Rapid City Journal reports.
A month later, he was placed on unpaid leave after being accused of coercing a 17-year-old male into sex. He narrowly survived an impeachment vote but subsequently failed to win support for reelection in November 2020.
Days later, he was arrested in Rapid City for failure to vacate. That was after police responded to a call that he was fighting private security at the Cheers Sports Bar & Casino at the Grand Gateway Hotel.
Bear Runner is currently being held awaiting trial in the Pennington County Jail.