Posted on: February 24, 2023, 04:11h. 
Last updated on: February 24, 2023, 04:11h.
Sex, drugs and illegal gambling are some of the trademarks of the triads throughout Asia. Knowing this helps law enforcement know where to look for the criminals, and Hong Kong just made a major bust of triad members in a crackdown.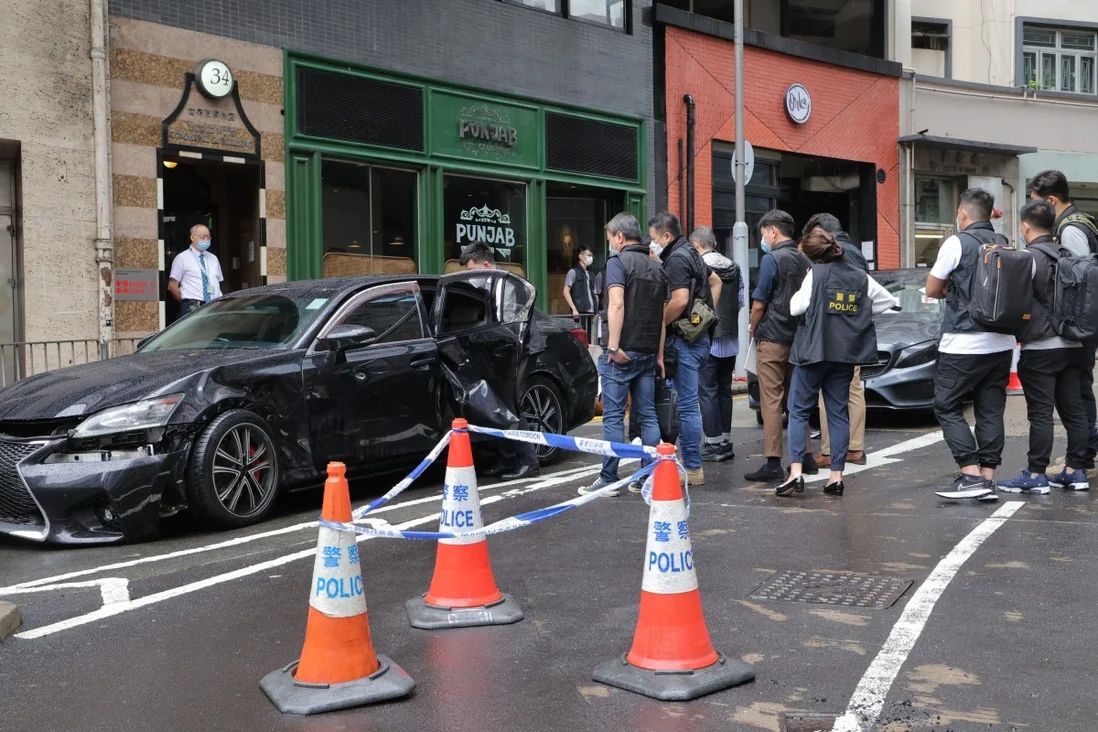 Hong Kong Police investigators inspect a vehicle involved in a triad-related fight. The police continue to crack down on triads, arresting dozens of suspected members this week. (Image: South China Morning Post)
Police arrested 234 people on Thursday, including dozens of suspected triad members, as they continue to weed out gang-controlled violence. The South China Morning Post (SCMP), citing police updates, reports that they targeted 15 gambling parlors and two brothels, uncovering a storage facility for illegal cigarettes and other contraband.
An unidentified source told the media outlet that the properties were under the control of a number of triads. The raids, part of an operation the police dubbed Levington, comes as triad gangs continue a turf war in Hong Kong that includes kidnapping, murder and street fighting.
Hong Kong Tries To Weed Out Triads
The raids led to the seizure of HKD220,000 (US$28,039) in illegal narcotics, as well as contraband cigarettes worth HKD4.5 million (US$573,300) and HKD2 million (US$254,800) in gambling chips. Police also confiscated HKD1.93 million (US$245,882) in cash, along with various weapons and vehicles.
The operation was organized by Hong Kong's Organized Crime and Triad Bureau as part of its ongoing effort to rid the region of the criminal organizations. While not all of the suspects the police arrested had direct ties to the triads, those that didn't still knew who owned the properties where the raids took place.
Of the 234 police put in handcuffs, there were 173 men and 97 women. Almost all were from Hong Kong, although there were also 12 from mainland China. The SCMP confirmed with its source that many were confirmed members of different triads.
Almost all those police took into custody face charges of various offenses. On the long list of options are criminal intimidation, money laundering, drug trafficking, possession of illegal weapons, illegal gambling, dealing in stolen contraband and assault.
The Hong Kong Police Force has continued to increase its attention to triads and doesn't plan on letting up. It added in a statement today that it will "spare no effort to crack down on triad activities and block their sources of income, and adopt a zero-tolerance attitude towards such illegal activities."
Dedicated Efforts Paying Off
In 2022, Hong Kong police increased their anti-triad efforts, investigating 2,554 cases of triad-related crimes. This was 35% more than a year earlier and represents a steady trend of work to try to eradicate the gangs. In 2019, there were 1,353 cases and, in 2020, there were 1,769.
However, the increase in targeted efforts also has its roots in an unpleasant foundation. It's because triad-related crime has risen, with illegal gambling, prostitution and grand theft auto becoming more popular.
In June of last year, triad factions got into a shooting match that left three people with injuries. Four months later, thugs attacked two people who left one triad to join another. Switching sides became more prevalent in 2022 and there were a number of revenge attacks the factions carried out as a result.
That same month, police dismantled a gang that was dealing in stolen weapons and vehicles to triads as it continued its crackdown. However, triad rivalries haven't let up, and six people were arrested in December following a street fight between two factions.