While Hustler Casino should have been celebrating the one-year anniversary of its game-changing poker stream Hustler Casino Live, the famous Los Angeles casino was busy announcing the abrupt cancelation of its $250,000 guaranteed poker tournament "due to unexpected circumstances."
The event in question is part of Larry Flynt's Grand Slam of Poker Memorial Tournament, a series of poker tournaments running July 17-Aug. 7 with over $400,000 in guarantees.
More than half of that guaranteed money was allocated for the finale, a $350 buy-in event with a dozen starting flights, a cool quarter-million guaranteed prize pool and $50,000 guaranteed for first place.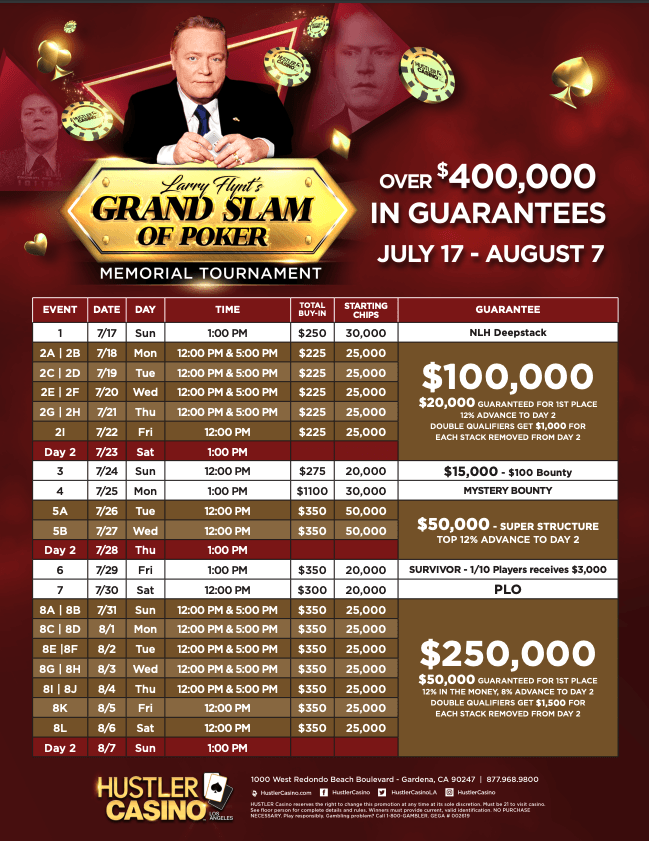 A promo for Larry Flynt's Grand Slam of Poker
That's a lot of guarantees. But on Aug. 2, after four starting flights had already played, Hustler Casino took to Twitter to announce that "we have decided to cancel our remaining dates for our tournament series and the $250,000 guarantee."
"We will still play Day 2 for the players that have already qualified and they will be playing for the current prize pool," the announcement stated. "We apologize for any inconvenience this may have caused."
‼️ Important Announcement ‼️ Prize Pool will be played on August 8th at 1PM! https://t.co/Bt7cViCWur
— HUSTLER Casino (@HUSTLERCASINOLA)
Many poker players and industry professionals were quick to react to Hustler's announcement, and the California casino later vowed to refund all players who registered for the event and take other measures to make things right.
Troubling Trend?
This is not the first time a poker tournament with a big guarantee has been canceled at the last minute. In December 2021, the Social Club in Houston pulled the plug on its planned tournament series before closing its doors later that month. Prime Social subsequently stepped up and held its Enchanted Xmas Series on the same dates.
Earlier this summer, the Orleans Poker Room in Las Vegas caught heat for canceling its $250,000 guaranteed No-Limit Hold'em Championship.
But the Hustler event cancelation stands out in that it was announced after the tournament had already gotten underway, as two-time World Series of Poker (WSOP) bracelet winner Ari Engel pointed out.
"Cancelling a guarantee mid tournament by a semi prominent American casino.. didn't think I'd see that in 2022," the longtime poker pro tweeted.
Cancelling a guarantee mid tournament by a semi prominent American casino.. didn't think I'd see that in 2022 https://t.co/13nV0Ly6Ew
— Ari Engel (@AriEngelPoker)
Some players were frustrated by the ambiguity of Hustler Casino's announcement, including poker watchdog Todd Witteles.
"Can you guys explain further?," tweeted Witteles. "Was there a major earthquake in LA which I don't know about? If you simply didn't draw enough people for it, pay the guarantee and never do them again."
Need a little better explanation than "unexpected circumstances" when you slash a guarantee of a tournament that has people that already bagged," agreed high stakes pro Adam Hendrix. "Not a good look for a casino that hosts one of the biggest streamed games constantly."
Need a little better explanation than "unexpected circumstances" when you slash a guarantee of a tournament that… https://t.co/3osHfDmcQN
— Adam Hendrix (@AdamHendrix10)
Doug Polk, who earlier this year purchased the Lodge Card Club in Austin, shared his perspective as a tournament organizer. Polk noted that "we lost ($)625k in guarantees in May" running the Lodge Championship Series.
"Hanging poker players out to dry like this is unacceptable," Polk wrote on Twitter.
We were ambitious with our guarantees at @LodgePokerClub in our championship series this year and the result was we… https://t.co/QizuquXleW
— Doug Polk (@DougPolkVids)
Hustler Responds
Responding to the outraged poker community, Hustler Casino General Manager Shaun Yaple explained on Twitter that a "bigger club stepped on us after we released our schedule" and that "(it is) better to re-group and plan for the future (than) head off a cliff."
That explanation didn't sit well with Polk, who noted that "the reality of running tournaments is if another club announces a tournament you ride it out."
"Lose money? Regroup and make a new strategy," Polk tweeted in response to Yaple. "It isn't the players responsibility for you to hit your guarantee."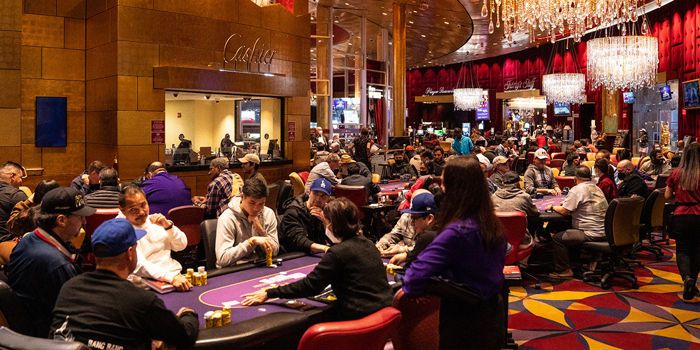 Hustler Casino
In a written statement provided to PokerNews, Yaple said Hustler "knew the decision to cancel the 250k would be heavily scrutinized" and had "explored alternate plans" after consulting with casino management, ownership and the tournament director. For example, Yaple said they had considered adding extra flights or days to the tournament but ultimately didn't find this to be a feasible solution.
"Our size was a factor," he said. "We cannot support (a) large volume of players if we heavily advertised an overlay for the last couple of days."
In the end, Hustler "decided it was best to cancel while the tournament was at the beginning stages … and impact the least amount of players."
According to Yaple, the four starting flights that played drew 123 total players (63 on Day 1a; 28 on Day 1b; 15 on Day 1c; and 17 on Day 1d) and saw nine players survive. Those nine players will return for Day 2 on Aug. 7 and play for the prize pool of $27,000 — a tenth of the advertised guarantee, albeit with eight less starting flights.
"We sincerely apologize to those affected," Yaple said.
Best Free to Play Slots
Making Things Right
In a later statement provided to PokerNews, Yaple stated that Hustler will issue a "full refund for all players who registered in the $250k," while the Day 2 qualifiers will "still (be) playing for the prize pool" of $27,000 as a freeroll.
Additionally, Yaple said Hustler would partner with Hustler Casino Live producers Nick Vertucci and Ryan Feldman "to do a large tournament (where) Hustler Casino will add $50k to the prize pool."
just setting up my twttr
— Biz Stone (@biz)
The timing of the tournament cancelation was unfortunate for Hustler Casino, which this week is celebrating the one-year anniversary of its Hustler Casino Live, a show that has fundamentally changed the live-streamed poker landscape.
Just hours before announcing the cancelation, Hustler tweeted an announcement about an "all-star" lineup live-streamed game featuring Garrett Adelstein, Wesley Fei and other familiar faces to celebrate the anniversary.
Click here to read about that lineup!
In light of the cancelation, some industry professionals took to social media to offer potential solutions to what is seemingly becoming a troubling trend in poker tournaments with big guarantees.
"If you plan a big guarantee event that you could potentially miss, place an entry threshold for guarantee activation in the rules which sets a maximum loss the house is willing to take," tweeted Sean McCormack, director of operations for ARIA Poker. "It's not a perfect solution but it's transparent to players."
British casino owner Rob Yong, meanwhile, offered a more succinct take: "Just pay."
@13Nute13 @ThePokerBoss Yes. Just pay. Plus amazing how many times everyone turns up on last day expecting added va… https://t.co/ncZJg6Lbab
— Rob Yong (@rob_yong_)
As it is, the tournament has been canceled but as laid out above alternative plans are in the works. Is it enough to repair the damage from the misstep? Only time will tell.