Warning: The following article contains graphic details involving murder and sexual assault.
As family, friends and members of the poker community wait for answers in the Susie Zhao murder case, delays and pushbacks brought on by the COVID-19 pandemic, changes to legal counsel and a filing error mean it will take longer to get those answers.
Zhao, a 33-year-old professional poker player who made deep runs in the World Series of Poker Main Event and who was a regular in the Los Angeles poker scene, was brutally murdered in July 2020 shortly after relocating to Michigan. Zhao's suspected killer, 61-year-old Jeffery Bernard Morris of Pontiac, Michigan, is in custody and awaits trial on two counts of murder.
Morris has a pretrial hearing scheduled in February, while the trial itself is scheduled to get underway this summer. After a series of delays spanning the course of multiple years, here is everything you need to know about where things stand in the Susie Zhao murder trial.
Case Background
Zhao's badly burned and partially mutilated body was discovered on July 13, 2020 in a state recreation area in White Lake, Michigan. In the following weeks, White Lake police arrested and charged Morris, a convicted sex offender with a violent criminal history dating back to the 1980s.
An autopsy revealed that Zhao had been burned alive and sexually assaulted. Police and Oakland County prosecutors allege that Morris met Zhao at Sherwood Motel, where he bound her with zip ties and "lit (her) on fire until she died." Surveillance footage showed that Morris later drove to the state park where Zhao's remains were found, while cell phone data linked the two to the Michigan motel.
In September 2020, Morris was charged with first-degree premeditated murder in Clarkston's 52nd District Court. As details emerged in the graphic case, prosecutors added a second murder charge and a judge bound the case over to the higher Oakland County Circuit Court.
Justice Delayed
Morris' trial was initially slated to take place in March 2021, though that date was later pushed back to September due to coronavirus-related restrictions at the courthouse, according to The Oakland Press.
In September, Oakland County Circuit Court Judge Martha Anderson agreed to delay the case until January 2022 due to a change in the defense counsel, court documents state. In December, the Oakland County Indigent Defense Services Office appointed Michael McCarthy as Morris' new counsel, replacing Pamela Johnson.
This wouldn't be the last delay in the prolonged murder trial. On January 11, the case had to return to District Court due to an "error at (the) time of bindover," which was caused by a clerk failing to add the second murder charge to the case before it was transferred to the Circuit Court back in late 2020.
Then, on January 12, Chief Circuit Judge Jeffery Matis issued an order stating that all jury trials scheduled through February 25 would be "adjourned without individual orders" due to a surge in coronavirus cases and would be rescheduled on or after February 28 "when court resumes full operations, barring unforeseen circumstances."
"This Court issues this Administrative Order as another in a series of Administrative Orders to address court operations during the time of the spread of the Coronavirus Disease that emerged in 2019, known as COVID-19," the order states, further noting that "COVID-19 continues to materially affect the functioning of the Court."
As things currently stand, it looks like the murder trial will finally be getting underway later this year. The latest pretrial date is set for February 17, while the latest trial date is scheduled for June 16, according to court documents.
Zhao was found dead in July 2020
Remembering "Susie Q"
According to The Detroit News, Zhao immigrated from China as a child and grew up in Michigan. She later studied psychology and business at Northwestern University near Chicago and eventually moved to Los Angeles, where she was a regular in the live poker scene and played and commentated on the "Live at the Bike" stream at the Bicycle Casino.
Zhao also did well in tournaments, accumulating $222,671 in live tournament earnings dating back to 2009, according to The Hendon Mob. Her best live cash came in 2012 when she finished 90th in the WSOP Main Event for $73,805. Just a few years later, she finished in 172nd place for $40,433 in the 2015 Main Event.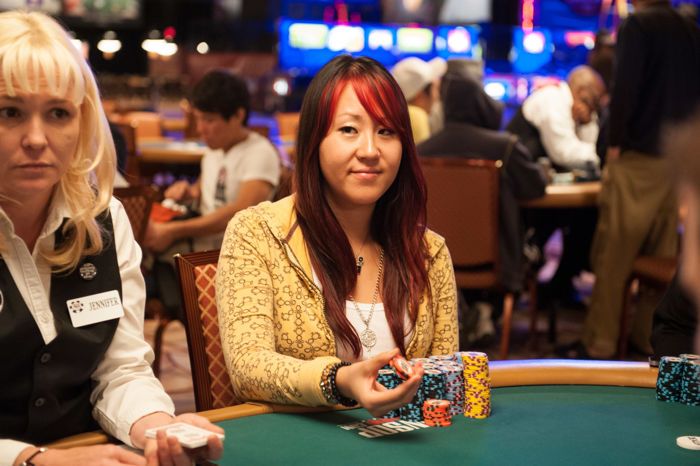 Susie Zhao made a lasting impression on the poker community
Zhao, who was known in the poker community as "Susie Q," had a vibrant personality and appeared to make an impression on nearly everyone she played with.
"She was one of the bubbliest and most vivacious opponents I've ever had," said Clayton Fletcher, who played with Zhao in the 2015 Main Event. "She was a very strong player who also liked to have fun at the table."
"(Zhao) was nice on and off the table," said Ronnie Bardah. "Had the pleasure to hang out and break bread with her on numerous occasions. Extremely intelligent and a sweetheart."
Susie Zhao was a so fkn cool. Was nice on and off the table. Had the pleasure to hang out and break bread with her… https://t.co/BQSkq5awGO
— Ronnie Bardah (@RonnieBardah)
Allen Kessler called Zhao one of his "long time poker friends" and said he had chatted with her days before her death.
Brandon Shack-Harris, meanwhile, noted that he had "tons of great experiences playing and talking with her in the Chicago days."
"Really cool person, and so glad I got to know her," Shack-Harris said.
PokerNews will continue to monitor this case as developments occur throughout 2022.