This weekend sees the French Grand Prix take place at the Circuit Paul Ricard, and PokerStars is celebrating by launching a pair of new and exciting promotions. PokerStars is the Official Team Partner of Oracle Red Bull Racing and promises to double the value of the promotions if an Oracle Red Bull Racing driver takes the chequered flag.
The Embrace the Race Chequered Flag Freeroll takes place every Monday following a Formula 1 Grand Prix, meaning the first time you can get involved in one is on July 25. Entry to this $25,000 guaranteed freeroll is restricted to PokerStars players that have either played in or attempted to qualify for the PokerStars Sunday Million during the previous week, so the July 24 edition in this case.
The $25,000 prize pool is made up of a mixture of $109 Sunday Million seats and tickets for Sunday Million qualifiers. However, should an Oracle Red Bull Racing driver win the French Grand Prix this weekend, PokerStars will double the prize pool of the Embrace the Race Chequered Flag Freeroll to a cool $50,000. With Max Verstappen and Sergio Perez in hot form, it is quite likely that prize pool will be doubled in size.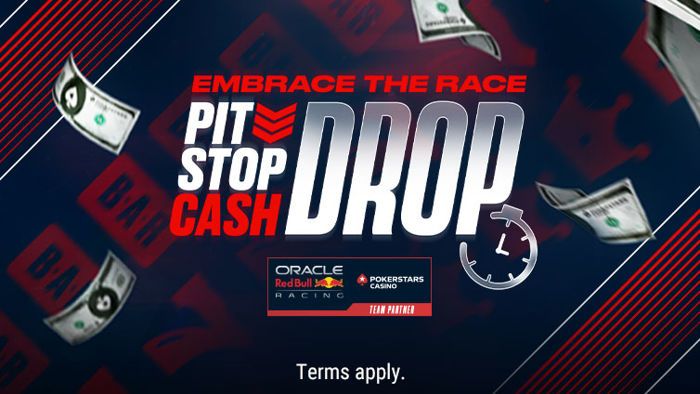 One lucky PokerStars player, hopefully you, could find themselves up to $20,000 richer this weekend thanks to the Pitstop Cash Drop. Pitstops are exciting in Formula 1 and a fast stop can be the difference between winning and losing a race. The Pitstop Cash Drop is also exciting because one randomly chosen PokerStars.com player will be chosen to win a $10,000 instant bonus, which is doubled to $20,000 if the French Grand Prix has an Oracle Red Bull Racing champion. The twist? When chosen, the lucky winner only has 15-minutes to claim their prize otherwise, it rolls over to the following race weekend! The first of the Pitstop Cash Drops is penned for July 26, so be aware!
Lastly, many PokerStars Casino players are already enjoying the potentially lucrative Casino Race that have a $50,000 prize pool. However, during Formula 1 race weekends, PokerStars Casino doubles the Casino Races prize pools to an incredible $100,000. Play your favorite slots via the Casino Races lobby or the Casino Races widget, and every spin awards you previous leaderboard points.