While we await the return of Garrett Adelstein, the woman he accused of cheating on Hustler Casino Live in September — Robbi Jade Lew — has already planned her first appearance on live-stream since the incident, and it will be Valentine's Day on Live at the Bike.
Joining the game will be Phil Hellmuth whose infamous appearance on LATB in August was heavily criticized when he bought in for only a fraction of the top stacks. He's since vowed to only buy in for $300,000 or more when he competes on live-streamed poker shows going forward.
Read more about the infamous jack-four hand between Garrett and Robbi
Robbi Sends a Message
Although the "Poker Brat" is almost always a headliner when he appears on TV or a live-stream, that won't necessarily be the case next week. Lew, who teased a possible return to Hustler Casino Live in December, has decided that her live-stream return will instead be on Live at the Bike for three straight days beginning Feb. 14.
The social media account for the longest-standing live-streamed poker show at Parkwest Bicycle Casino in Los Angeles tweeted out a video with Lew promoting the event, as did Hellmuth.
@RobbiJadeLew has a message for her LOVERS and HATERS…she returns to live streaming poker on Valentine's Day with… https://t.co/ka54ZitglC
— Live at the Bike (@LIVEattheBike)
According to info provided to PokerNews from Live at the Bike, Hellmuth is scheduled to play all three days (14th, 15th, and 16th) and, yes, he has committed to buying in for $300,000. The blinds will start at $100/$200/$200 along with straddles the first two nights and then $50/$100/$100 plus straddles the third evening.
A full roster hasn't yet been determined but poker pro and commentator Maria Ho is slated to play the 15th and 16th, streamer Kevin Martin will play the 16th, and LATB regular Aussie Al is scheduled for all three days. Expect the full lineups to be announced soon.
Where's Garrett?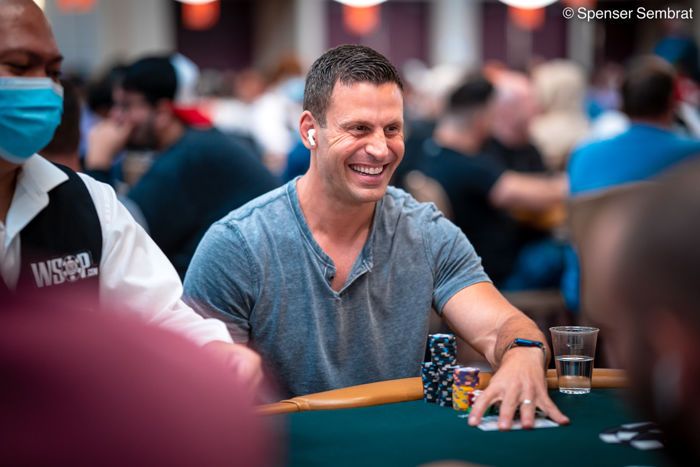 On Sep. 29, Adelstein accused Lew of cheating during the infamous Hustler Casino Live stream. He emphatically claimed she somehow had access to his hole cards when she called off a six-figure bet on the turn with nothing but jack-high (Jx4x) and no draw while he was semi-bluffing with eight-high on a draw.
The hand took on a life of its own, and the accusations reached mainstream non-poker media. Many poker fans and even non-poker fans accused Lew of cheating, but she has maintained her innocence ever since. No hard proof was ever discovered against her, and she's remained in the spotlight at times since, competing in some tournaments including the record-setting WPT World Championship at Wynn Las Vegas in December.
As for Adelstein, outside of the occasional random tweet and an interview with The Los Angeles Times, he's been non-existent in the poker world since the alleged cheating incident. But he did tweet out the possibility of returning to action in May when Hustler Casino Live hosts a $1 million buy-in cash game.
@HCLPokerShow Might be down if there's a seat
— Garrett Adelstein (@GmanPoker)
It's unlikely we'll see Adelstein and Lew at the same table any time soon, if ever again. But it appears we are getting close to the return of both of them in live-streamed high-stakes poker games.