When PokerStars released the schedule for EPT London, it was announced that two Platinum Passes for the 2023 PokerStars Players Championship (PSPC) would be up for grabs in the English Capital.
The first $30,000 package was awarded in the Platinum Pass Flipout tournament that took place in the morning on Saturday, October 22. While the second is currently tucked away inside a Mystery Bounty envelope as part of the EPT £3,000 Platinum Pass Mystery Bounty tournament which gets underway later today at 3 p.m. BST.
Spulber Books Seat to PSPC
On Saturday morning, each player who had qualified online to either the £1,100 UK and Ireland Poker Tour (UKIPT) Main Event or the £5,300 EPT Main Event were automatically entered into the flipout event, where the winner would be awarded a Platinum Pass.
Each lucky Platinum Pass winner is in line to receive more than $30,000 of value including:
$25,000 buy-in to the PSPC 2023 event
6 nights' hotel accommodation for the winner and a guest in a 5* hotel
Airport transfers
Bespoke PSPC merchandise
$1,900 in expenses
Plus Platinum Pass winner experiences during the event
A flipout tournament is where each player is automatically all-in and whoever has the winning hand after the runout advances to the next stage. That process then repeats itself until a winner is crowned.
Ten players made the final table and were dealt their hole cards. The dealer then fanned the
board. After the players turned their cards over, it was revealed that Romania's Iosif Spulber was the winner as he ended up with trip aces after being dealt the
.
That #PlatinumPass winning moment. #
— PokerStars LIVE (@PokerStarsLIVE)
The 32-year-old Software Engineer is a self-proclaimed recreational poker player and also an avid member of PokerStars Ambassdor Lex Veldhuis' Twitch community.
"I simply love Twitch poker," he told PokerStars Blog. "I think it's got a lot of elements that make it perfect for streaming. It's so entertaining, the entire audience 'invests' in deep runs, and the hype when something massive is about to go down is insane."
Spulber finished off by declaring to his rail "This is the craziest thing that's ever happened," while holding the ultimate grand prize.
How to Win a PokerStars Players Championship Platinum Pass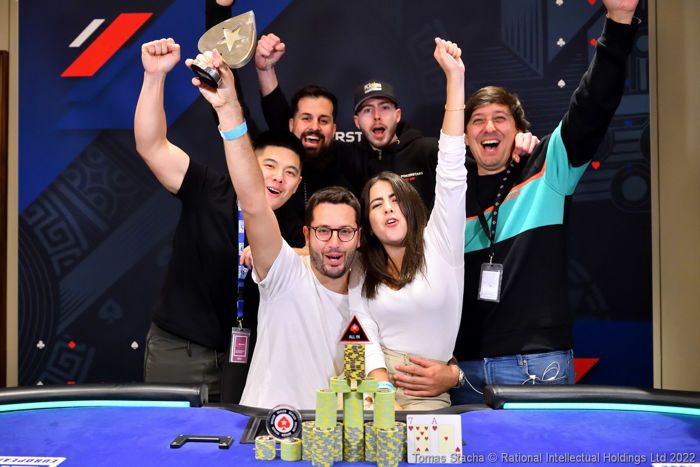 Juan Pardo claimed almost £250,000 in the Mystery Bounty High Roller
Two Mystery Bounty tournaments have already concluded at EPT London, with Juan Pardo and Henrik Veldhoem walking away as the champions in the £10,200 Mystery Bounty and the £440 UKIPT Mystery Bounty Cup respectively. However, all eyes will now be on the £3,000 EPT Platinum Pass Mystery Bounty that commences in a few hours time.
While the mystery bounty prizes only come into play on tomorrow's Day 2, the entrants will be as excited to book their place at the PSPC, possibly even more so than pulling the rumoured £100,000 top mystery bounty prize.
As mentioned, Day 1 for that event starts at 3 p.m. and the players who enter must survive 12 levels of play to bag and tag a stack for Day 2. Alternatively, they can bypass the starting flight as late registration is open until Day 2 begins, which is on Tuesday, October 25. The platinum pass will be hidden inside one of the mystery bounty envelopes and only one lucky player will be the recipient of the epic package.
The PokerNews live reporting team will be on the ground for the duration of the Platinum Pass Mystery Bounty, so make sure to check out all the updates to find out who secures life changing paydays.
Greg "Fossilman" Raymer Wins PokerStars Platinum Pass at Mixed Game Festival
Nakai Wins Platinum Pass at EPT Barcelona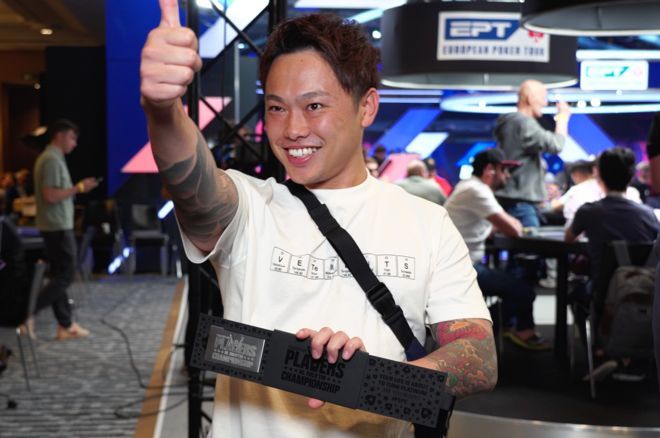 Yamato Nakai
The addition of a platinum pass inside a mystery envelope first came into play at EPT Barcelona in August 2022 and Yamato Nakai was the lucky recipient.
An ecstatic Nakai was grinning from ear to ear as EPT Tournament Director Toby Stone presented him with his prize.
Nakai, at the time, only had a modest $15,848 in career live earnings, with his most recent cash coming at the EPT Barcelona festival. He finished 313th in the Estrellas Poker Tour Main Event for €3,340.
Quotes and imagery are courtesy of PokerStars

Calum Grant
Editor & Live Reporter
Calum has been a part of the PokerNews team since September 2021 after working in the UK energy sector. He played his first hand of poker in 2017 and immediately fell in love with the game. Calum's proudest poker achievement is winning the only tournament he has ever played in Las Vegas, the prestigious $60 Flamingo evening event.
1

EPT London Returns After Eight Years; Two $30,000 Platinum Passes To Be Won

2

It's Back! The PokerStars EPT Returns to London From Oct. 18

3

Every Past EPT London Final Table Including Coren Mitchell's Famous 2006 Win

4

Juan Pardo Kicks Off EPT London with £10,200 Mystery Bounty Victory (£80,280)

5

Byron Kaverman Comes From Behind to Win EPT London Single-Day High Roller (£273,710)

6

Martin Jacobson Goes From Short Stack to Champion in UKIPT Main Event (£232,300)

7

Routier Dominates £2,200 UKIPT High Roller Final Table to Win First EPT Title (£249,460)

8

Spulber Bags Platinum Pass; Another Up for Grabs in EPT London £3,000 Mystery Bounty

9

Hecklen Spins It Up to Win £50,000 EPT London Super High Roller (£652,700)

10

MUST SEE – Crazy Runout in EPT London Main Event Boosts Ullereng; Tice Eliminated in Level 1!