January 05, 2022
Jon Sofen
PokerGO is providing poker players with a legitimate opportunity to turn $1,100 into a $100,000 buy-in poker tournament entry, and then potentially millions of dollars, through the Stairway to Millions competition in Las Vegas January 12-20.
The series takes place at the Aria Resort and Casino, an MGM Resorts-owned property on the Strip, with final tables in each of the eight final tables hosted at the PokerGO Studio.
How it Works
On January 12 at noon, the Aria will host an $1,100 buy-in series opener. Players will start with 100,000 chips and the tournament is guaranteed to have at least $100,000 in the pot. This is just the first step in what could turn an Average Joe into a millionaire within a matter of days. The full list of Stairway to Millions tournaments are as follows:
| Date | Buy-In | Guarantee |
| --- | --- | --- |
| Jan. 12 | $1,100 | $100,000 |
| Jan. 13 | $2,150 | $100,000 |
| Jan. 14 | $4,200 | $100,000 |
| Jan. 15 | $8,400 | $200,000 |
| Jan. 16 | $15,800 | $300,000 |
| Jan. 17 | $25,100 | $500,000 |
| Jan. 18 | $52,000 | $500,000 |
| Jan. 19 | $102,000 | $1,200,000 |
The goal, other than to win money of course, is to work your way up through the buy-in levels starting with the series opener ($1,100). Each player who cashes advances to the next level. So, a player who finishes in the money in the $1,100 tournament receives a free entry into the $2,150 tournament on January 13, and so on.
If a player cashes in the first seven tournaments, they'll be automatically entered into the $102,000 buy-in series finale, effectively turning an $1,100 investment into a six-figure buy-in tournament, along with all the cash they won along the way.
Tournament Structures
In total, the Aria will pay out at least $3 million in prize money throughout the eight events. Each tournament starts at noon inside the Aria poker room and players will begin with 100,000 chips for the under-$10,000 buy-in tournaments and 200,000 for the finale.
Players can re-enter up to two times during the first seven no-limit hold'em tournaments. The six-figure series-ender is a freezeout. Each tournament is scheduled to last two days with the final tables all taking place at the PokerGO Studio, which is just steps away from the Aria poker room.
On top of the potentially lucrative poker tournaments scheduled, poker vloggers Brad Owen and Johnnie "Vibes" Moreno will host a Stairway to Millions meetup game at the Aria on January 11. Both vloggers have also committed to competing in at least the first two events of the tournament series.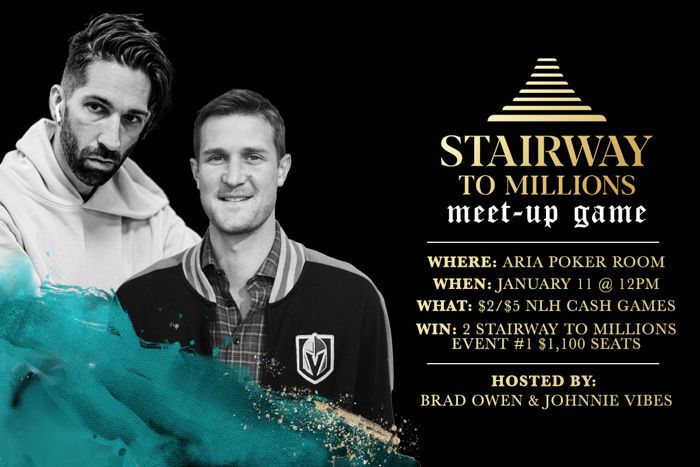 Click here for info on the Meet-Up Game