December 27, 2021
Will Shillibier
Winning two bracelets at the same World Series of Poker is a rare feat that less than 60 players have achieved during the long and storied history of the WSOP.
A whole host of familiar names have achieved the feat including Scotty Nguyen, Max Pescatori and Brian Rast, with Doyle Brunson, Phil Ivey and Phil Hellmuth among a select group to have done it twice!
The achievement happens more often than you think; you have to go back over twenty years to discover a year where one player failed to win two bracelets in Las Vegas in the same year.
However, in 2021 an astonishing SIX players won two bracelets in the same year, something that hasn't happened since 2003.
2021 World Series of Poker
It was an incredible Fall at the Rio All-Suite Hotel & Casino, as the WSOP bid farewell to the casino that has been its home since it began hosting all events in 2006.
Not only were there some amazing stories, there were also some amazing players including the six who achieved the unique feat of winning two bracelets in a single year. Let's revisit each of them and see how they made their way into this unique club.
There is also a fun quiz for you to play along at home. Answers to the six questions can be found at the bottom of the page. Good luck!
Josh Arieh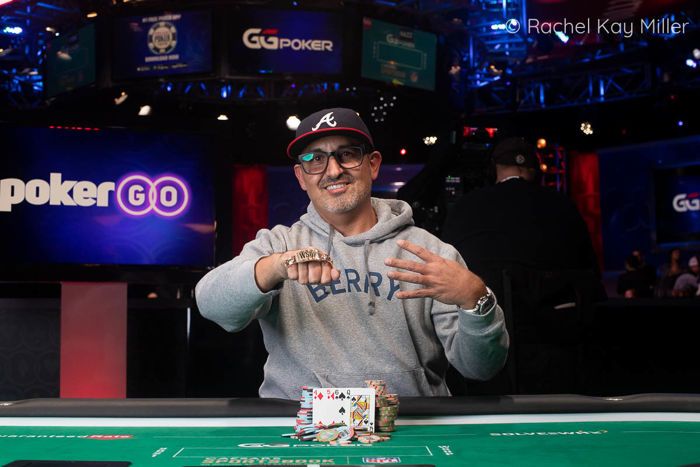 "It means a lot because my daughters will be really proud."
There's probably no better place than to start with the World Series of the Year Player of the Year. Already a two-time bracelets thanks to victories in 1999 and 2005, Josh Arieh grabbed two to clinch POY victory.
"My whole life and my career, whatever I do, I build momentum, so when I'm going good, I'm really good. When I'm going bad, I go really bad," Arieh told PokerNews. "It means a lot because my daughters will be really proud."
His victories in Event #39: $1,500 Pot-Limit Omaha and Event #66: $10,000 Pot Limit Omaha Hi/Lo Championship saw him hold off both Phil Hellmuth and Daniel Negreanu to win the POY title.
This marks the second WSOP in a row where the Player of the Year won two bracelets en-rout to the title, with Australian Robert Campbell doing the same in 2019.
Question 1: Since its inception in 2004, how many of the 17 WSOP Player of the Year winners have won two or more bracelets en route to the title?
Top Stories of 2021, #6: Super High Roller Bowl Europe & Tony G
Scott Ball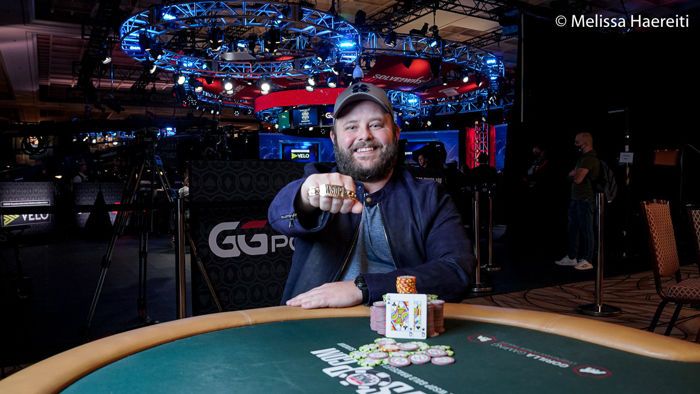 "I've just worked so hard to get better at No-Limit this past year"
Meanwhile, Scott Ball took down the No Limits Velo leaderboard which included all No Limit Hold'em bracelet events in Las Vegas, as well as the NV/NJ online events.
Ball's first bracelet came in the highly-competitive Event #25: $5,000 6-Max NLHE before following it up with victory in the massive 3,797-player field Little One for One Drop.
"I've just worked so hard to get better at No-Limit this past year," Ball told PokerNews "It feels like I'm dreaming, and I'm going to wake up tomorrow and be like, dang, I can't wait to live that one day."
Question 2: Who were the last three players to win their first two bracelets in the same year?
Anthony Zinno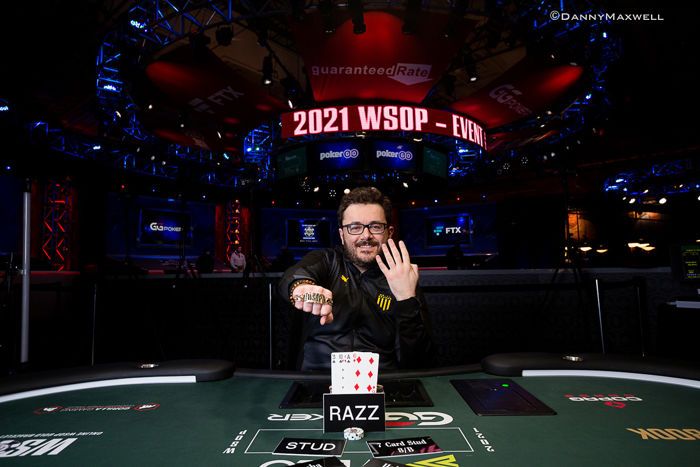 It didn't take long this year for the first two-time winner, and it was a familiar face. Anthony Zinno now has four WSOP titles to go with his three World Poker Tour titles, a feat unmatched by any other player.
His two wins came in the space of a handful of days, first winning Event #19: $10,000 Seven Card Stud Championship and following that up with victory in Event #27: $1,500 H.O.R.S.E.
Question 3: Only four players have recorded over $4 million in WSOP cashes and over $3 million in WPT cashes. Can you name them?
Michael Addamo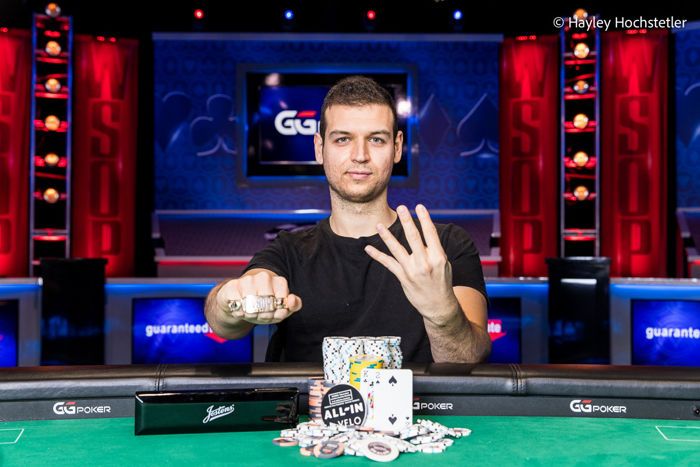 Another player who made it four this year was Michael Addamo who did in style, winning two of the most high-profile events on the WSOP calendar.
Not content with his summer of success that included Poker Masters and Super High Roller Bowl crowns, Addamo stormed to victory in two more High Rollers to bring his bracelet tally up to four.
He took down Event #38: $50K High Roller and Event #87: $100,000 High Roller for combined cashes of over $3,000,000.
Question 4: Can you name the only Australian player with more WSOP bracelets than Addamo?
Top Stories of 2021, #8: Remembering Those Who Passed Away This Year
Kevin Gerhart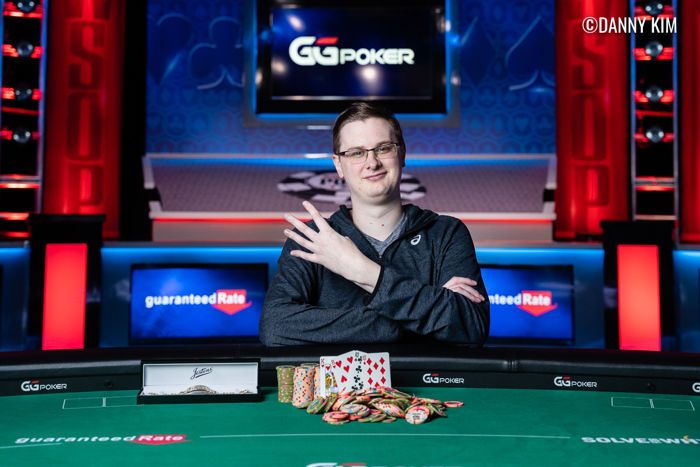 Four bracelets is good, but imagine four bracelets in three years. Step forward Kevin Gerhart who, after winning his first bracelet in 2018 and bagging another during the 2020 WSOP Online, won two more in Vegas this Fall to bring his tally up to four.
A talented mixed game player, Gerhart won the $10,000 H.O.R.S.E. Championship and the $1,500 Pot-Limit Omaha Hi-Lo 8 or Better for combined cashes of over half a million dollars.
Question 5: In addition to Gerhart, how many players who won online bracelets since 2019 added a live bracelet in 2021?
Jeremy Ausmus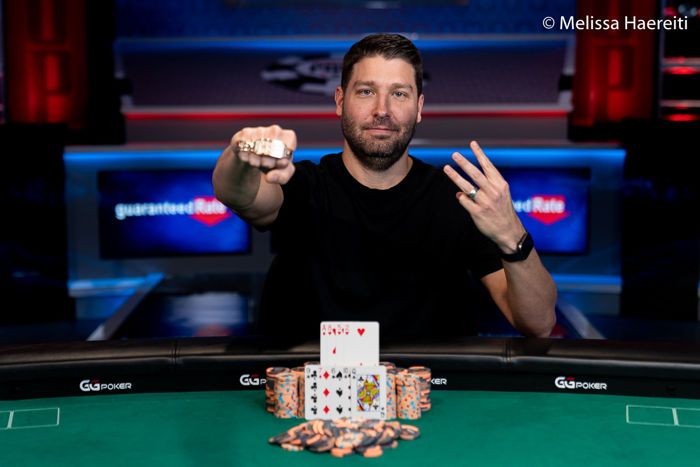 "My first bracelet was in Europe […] until this year I had never won a bracelet here at the Rio."
Less than a decade on from his final-table appearance in the 2012 World Series of Poker Main Event, Jeremy Ausmus now has his hands on three WSOP bracelets.
"It feels really good," Ausmus told PokerNews. "My first bracelet was in Europe, outside of Paris, so until this year I had never won a bracelet here at the Rio. I'd had a lot of deep runs, so it's cool to take a couple down here."
Ausmus has now cashed for over $5.7 million at the WSOP alone, with his two bracelets in 2021 coming in Event #3: $1,000 Covid-19 Relief NLHE Charity Event and Event #84: $50,000 Pot-Limit Omaha High Roller where he beat Daniel Negreanu and Phil Hellmuth to clinch his third title.
Question 6: Who was the only 2021 WSOP Main Event final tablist to have previously won a bracelet?
Other Multiple Bracelet Winners
It wasn't just a year for players winning two in a single year, but several WSOP regulars also bagged another title. Brian Rast, Brian Hastings and Shaun Deeb all won their fifth WSOP titles.
Meanwhile, in addition to Addamo, Arieh, Gerhart and Zinno, six other players won their fourth bracelets with John Monnette, Adam Friedman, Farzad Bonyadi, Ben Yu, Brian Yoon and Adrian Mateos all adding to their WSOP resumes.
Multiple WSOP bracelet winners in Las Vegas
| Year | Multiple Bracelet Winners | Names |
| --- | --- | --- |
| 1971 | 1 | Johnny Moss |
| 1973 | 1 | Walter "Puggy" Pearson (3) |
| 1974 | 1 | Jimmy Casella |
| 1976 | 2 | Doyle Brunson, Howard Andrew |
| 1977 | 2 | Doyle Brunson, Bobby Baldwin |
| 1978 | 1 | Gary "Bones" Berland |
| 1979 | 2 | Gary "Bones" Berland, Lakewood Louie |
| 1981 | 1 | Stu Ungar |
| 1982 | 2 | Billy Baxter, David Sklansky |
| 1983 | 1 | Tom McEvoy |
| 1984 | 2 | Jack Keller, Dewey Tomko |
| 1993 | 3 | Phil Hellmuth (3), Ted Forrest (3), Humberto Brenes |
| 1994 | 1 | T. J. Cloutier |
| 1995 | 3 | Dan Harrington, Men Nguyen, Hilbert Shirey |
| 1997 | 1 | Max Stern |
| 2000 | 1 | Chris Ferguson |
| 2001 | 2 | Scotty Nguyen, Nani Dollison |
| 2002 | 2 | Phil Ivey (3), Layne Flack |
| 2003 | 6 | Phil Hellmuth, Chris Ferguson, Johnny Chan, John Juanda, Layne Flack, Men Nguyen |
| 2004 | 2 | Ted Forrest, Scott Fischman |
| 2005 | 1 | Mark Seif |
| 2006 | 2 | Jeff Madsen, William Chen |
| 2007 | 1 | Tom Schneider |
| 2008 | 1 | John Phan |
| 2009 | 4 | Jeff Lisandro (3), Phil Ivey, Brock Parker, Greg Mueller |
| 2010 | 1 | Frank Kassela |
| 2011 | 1 | Brian Rast |
| 2012 | 1 | Greg Merson |
| 2013 | 1 | Tom Schneider |
| 2014 | 1 | George Danzer |
| 2015 | 2 | Max Pescatori, Brian Hastings |
| 2016 | 3 | Jason Mercier, Ian Johns, Benny Glaser |
| 2017 | 2 | Nipun Java, David Bach |
| 2018 | 3 | Shaun Deeb, Joe Cada, Justin Bonomo |
| 2019 | 1 | Robert Campbell |
| 2021 | 6 | Josh Arieh, Anthony Zinno, Kevin Gerhart, Scott Ball, Jeremy Ausmus, Michael Addamo |
Bold indicates player also won the WSOP Main Event that year
Italics indicates player also won WSOP Player of the Year
Top Stories of 2021, #7: Return of Live Poker & Looking Ahead to 2022
Quiz Answers
11 of the 17 winners have won 2+ bracelets, the exceptions being Negreanu ('04), Cunningham ('05), Lindgren ('08), Lamb ('11), Gorodinsky ('15) and Ferguson ('17).
Robert Campbell (2019), Nipun Java (2017) and Greg Merson (2012)
The only other players are Daniel Negreanu, Phil Ivey, Antonio Esfandiari and J.C. Tran.
Addamo trails only Jeff Lisandro (6) in most bracelets by an Australian.
7 players – Ryan Leng, Bradley Ruben, Georgios Sotiropoulos, Connor Drinan, Mark Herm, Daniel Lazrus and Martin Zamani.
Chase Bianchi