January 07, 2022
Matthew Pitt
We are only a week into 2022 but there are already opportunities to turn a few dollars into a potentially life-changing score at both PokerStars and GGPoker. Both online poker giants have some massive tournaments taking place this weekend, tournaments that have dozens of budget satellites feeding into them. Can you afford not to try win your way into the PokerStars Winter Series Main Event or the GGPoker WSOP Winter Online Circuit Main Event?
Win Your Way Into the $2 Million Guaranteed PokerStars Winter Series Main Event
Event 103-H of the PokerStars Winter Series is the $5,200 buy-in No-Limit Hold'em High Main Event, which comes with a $2 million guaranteed prize pool. cards are in the air from 6:05 p.m. GMT on January 9, and you could be rubbing shoulders with poker's elite for only $5.50.
PokerStars is known for running plenty of satellites into its biggest events, and the Winter Series Main Event is no different. You have a choice of traditional multi-table tournament satellites or sit & go satellites; choose the format you are strongest in.
The $5.50 buy-in Winter Series 103-H [Main Event] satellites have a hyper-turbo structure where the blinds increase every three minutes. They award seats to the $55 buy-in Phase 1 satellites where you get your grind on for 17 levels, each lasting five minutes. Last until the end of the 17th level and you find yourself in the Phase 2 where the $5,200 Winter Series Main Event High seats are dished out.
Soccer Star Neymar Jr. Hits The Post In Two Winter Series Events
Of course, it is not only the $5,200 High Main Event taking place on January 9, there is the $55 Low Main Event, with $1 million guaranteed, and the $530 Medium Main Event that has $1.5 million guaranteed.
Cut-price satellites from a mere $1.10 are in the PokerStars lobby right now. Imagine turning $1.10 into a shot at a prize pool that is guaranteed to tip the scales at $1 million. It would make for a cracking start to 2022.
SNG specialists can sit & go their way into the Low and Medium Winter Series Main Events. There are $7.50 buy-in 16-player, and $18.75 buy-in six-player tournaments for the Low Main Event. These increase to $68 buy-in 16 player and $181 buy-in six-player tournaments for the Medium Main Event.
Turn $5 Into a Shot at a WSOP Circuit Ring and a $5 Million Prize Pool at GGPoker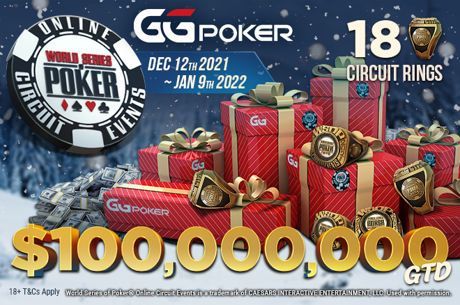 The WSOP Winter Online Circuit Main Event Day 2 kicks off at 8:30 p.m. GMT on January 9, and promises to pay out not a cent less than a cool $5 million. Several $525 buy-in Day 1s remain on the schedule, but you do not want to fork out $525 when you can win your way into this gold ring-awarding event for only $5.
$5 Step to WSOPC #18: $525 Main Event, $5M Gtd run around the clock and guarantee at least two seats to the $50 Mega to WSOPC #18: $525 Main Event satellite. Again, these run frequently so find one that suits your lifestyle because you are automatically registered for the next available satellite if you win your way in via a $5 Step.
Rudolph Finally Gets His Hands on a Super MILLION$ Title
These $50 Mega satellite have between ten and 12 Main Event seats, each worth $525, guaranteed.
More than a dozen Main Event Day 1 are yet to play. Win your way into one to receive 50,000 chips, which is the equivalent of 200 big blinds. The blinds start at 125/250/30a and increase every 12 minutes. Day 1s conclude after the 20th level. Have a single chip in front of you at this point and you are through to Day 2 where the $5 million or more prize pool is up for grabs.