January 13, 2022
Jon Sofen
The 2021 Global Poker Awards at the PokerGO Studio in Las Vegas will take place February 18, and you — yes, you — can have a say in who will win one of the most intriguing categories.
Poker Personality of the Year, a People's Choice Award, is up for a fan vote until January 17. You can nominate one individual over on the Global Poker Index website (and please vote in our poll below).
There are hundreds of interesting personalities around the poker world — vloggers, broadcasters, players, and even social media influencers. Forget what you may have heard about how today's poker players aren't charismatic and entertaining as they were 15 years ago. Sammy Farha, Humberto Brenes, and Marcel Luske aren't in the spotlight anymore. But the individuals on this list of 2021 Poker Personality of the Year candidates are every bit as entertaining.
The Sleeper Pick
Daniel Negreanu made public his selection for the top personality in poker over the past year. And it just so happens to be the star of our weekly World Series of Poker (WSOP) segment, The Chainsaw Report.
I just voted for Allen Kessler for Poker Personality of the Year.
— Daniel Negreanu (@RealKidPoker)
Allen Kessler, aka "The Chainsaw," is a tournament grinder most known for piling up min-cashes and then sharing his bad beat stories on social media. But he's also one of the game's most colorful characters, the reason PokerNews loves to feature him regularly during the WSOP.
Traditional Favorites
Many of the poker boom celebs have faded into oblivion as we mentioned earlier, but there are still a few popular players from that era grinding away at the WSOP and other major poker events.
The list includes Negreanu, Phil Hellmuth, and Mike Matusow, three of poker's most popular players of all-time. Over the past year all three have continued their quest to promote the game.
Negreanu's WSOP vlogs receive rave reviews and give viewers a unique glimpse inside the daily WSOP grind. Matusow not only vlogged frequently during the Series, but also hosts a podcast, "The Mouthpiece." And Hellmuth is, well, Hellmuth, and he'll always be one of the most colorful personalities in the game.
The Broadcasters
The poker community has always been blessed with some talented television commentators, starting with the long-time WSOP announcers, Lon McEachern and Norman Chad. Over on PokerGO, broadcasters such as Ali Nejad, Nick Schulman, and Maria Ho provide countless hours of entertaining commentary.
And then there's the comedic Jamie Kerstetter, who has become a staple on WSOP broadcasts and is among the best follows on poker Twitter.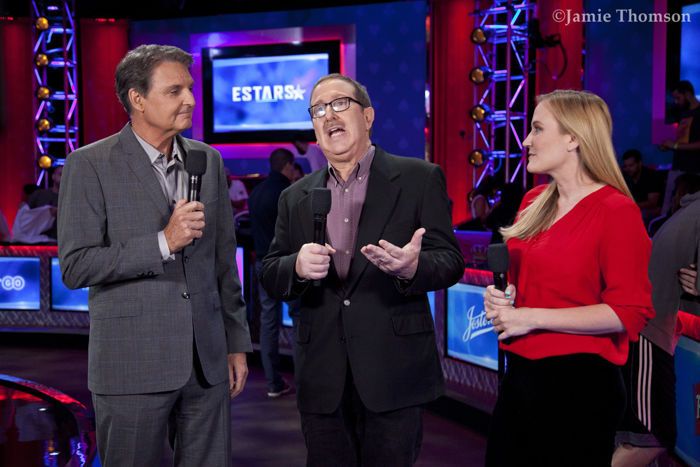 The Vloggers and YouTube Personalities
There are more ways to consume poker content in 2022 than in 2002 or 2012. YouTube, Twitch, and other video and streaming platforms have given poker fans unlimited ways to watch the game. But it takes a talented individual to capture an audience, which is exactly what a number of poker players have done over the past year.
On the vlogging side of things, the long-time stars such as Brad Owen, Andrew Neeme, and Ryan Depaulo are still crushing it. And there were some new vloggers in 2021, most notably Greg Goes All-In, a Canadian low-stakes poker player who already scored a GGPoker sponsorship deal because of his hilarious vlogs.
Last but not least, one of the funniest and most controversial members of the poker community — Doug Polk. The Upswing Poker founder, who teamed up with Neeme and Owen to purchase a Texas card room, started a podcast in 2021 and finished up his heads-up challenge against Negreanu.
The Doug Polk Podcast, available on YouTube, has brought out some of the biggest guests in poker and crypto, such as Shaun Deeb, Negreanu, and Hellmuth.
Quite frankly, everyone mentioned above is deserving in their own way, as our many others — Veronica Brill, Will Jaffe, Joe Stapleton, and Jeff Platt, just to name a few. But you can only nominate one person for the 2021 Poker Personality of the Year award. So, who do you got?