PokerNews is known throughout the world for our industry-leading live updates for both live and online events. In fact, right now we're offering various updates right here.
Over the years, we've captured memorable hands, many of which have become a part of poker history. In this column, we will bring you some of the biggest hands that took place during the European Poker Tour (EPT) London.
Remember, if you're playing an event PokerNews is covering, you can get in the updates via the MyStack App. You can download the app for iPhone or Android now to get started. Then, create a new PokerNews account or update your current one to start updating your status immediately. Your followers can see all the live action that you're involved in.
Click here to download the My Stack app for iPhone, or click here to download the My Stack app for Android.
Check out Part 1 of our Big Hands from the EPT London!
Jamil Wakil Done In By Docherty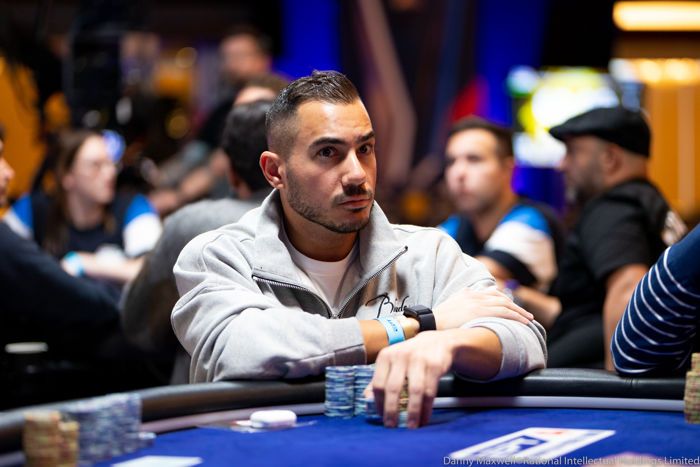 Jamil Wakil
On Day 4 of the 2022 PokerStars EPT London £5,300 EPT Main Event, it was Level 21 (10,000/15,000/15,000) the biggest hand of the tournament up to that point extended five minutes into the break. Jamil Wakil opened to 35,000 in middle position and David Docherty three-bet to 110,000 from the cutoff. Wakil four-bet to 315,000 and the chip leader called after using a single time extension.
The flop landed
and Wakil continued for 175,000. Docherty called. Wakil sized up to 350,000 on the
turn and Docherty again called.
The
on the river completed the board and Wakil bet around 600,000 with just a single 5,000-denomination chip behind. Docherty raised all in and Wakil called with a groan as he asked, "You have aces?"
Docherty did indeed have aces as he showed
, while Wakil held
for a worse overpair, marking the second time in just the first level of play that Docherty has picked up aces to be against an opponent with kings.
"So f***ing sick," Wakil said quietly as he stood from his seat. He finished in 21st place for £22,500.
"I'm running so good that I feel guilty about it," Docherty told the dealer before heading to break. "This is a simulation."
Lodge Doubles With Aces After "TV Runout"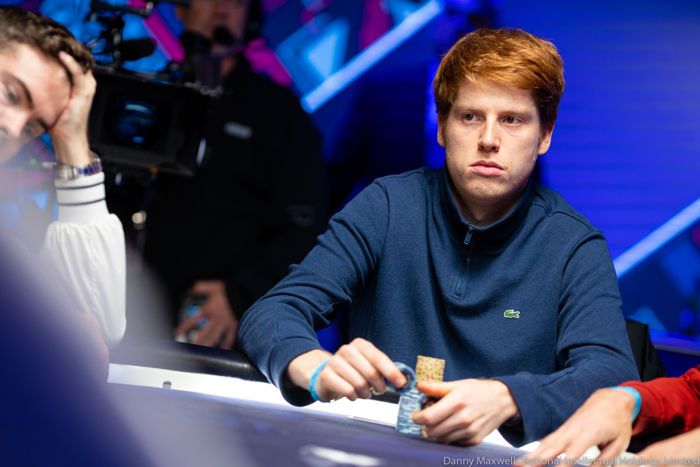 Harry Lodge
Also on Day 4, albeit in Level 23 (10,000/25,000/25,000), Harry Lodge opened in middle position, and David Docherty three-bet out of the big blind. Lodge four-bet jammed and Docherty called with the bigger stack.
Harry Lodge:

David Docherty:
At last, Docherty saw aces today without being the one holding them and he needed help to eliminate Lodge.
"I'm pretty good at these!" said Docherty as the flop landed
to give him a pair of kings and backdoor clubs to go with it.
The
on the turn significantly upped the sweat factor as it gave Docherty a flush draw and Lodge was calling for a red card as the
bricked off on the river to earn him the double up.
"This was a TV hand; that was a TV runout!" laughed Marton Czuczor. Lodge went on to finish the tournament in eighth place for £79,750.
Seidel Doubles with Set Over Set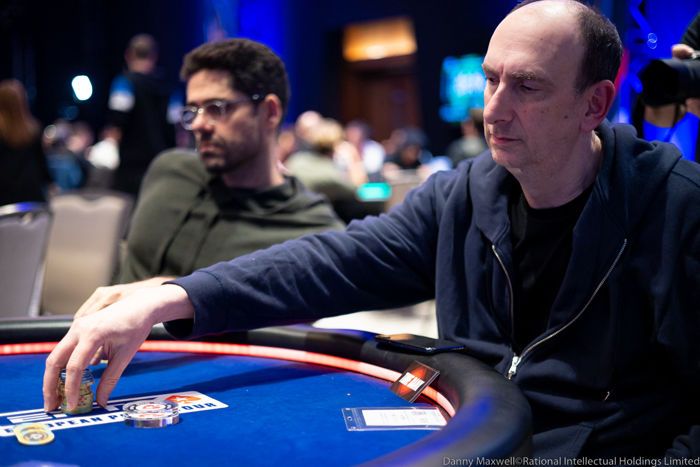 Erik Seidel
On Day 3 of the Main Event, it was Level 20 (6,000/12,000/12,000) when Poker Hall of Famer Erik Seidel opened to 27,000 on the button and Julien Sitbon defended the big blind.
"I just want to be in the chip race," Seidel joked, as the T-1,000 chips were being raced off soon and the dealer gave him three T-1,000 chips as change.
The dealer fanned out the
flop and Sitbon checked. Seidel bet 25,000 and Sitbon check-raised to 65,000. Seidel called.
The
landed on the turn and Sitbon bet 130,000. Seidel called.
The
completed the board and Sitbon moved all in, covering Seidel's 248,000 remaining chips. Seidel quickly called.
Sitbon tabled
for a flopped set, but Seidel revealed
for a superior turned set, and the Poker Hall of Famer secured the double on one of the last hands of the night to near a million in chips. Seidel went on to finish in 11th place for £41,100.
Click here to see Erik Seidel's profile on PokerNews!
Flopped Set No Good for Heath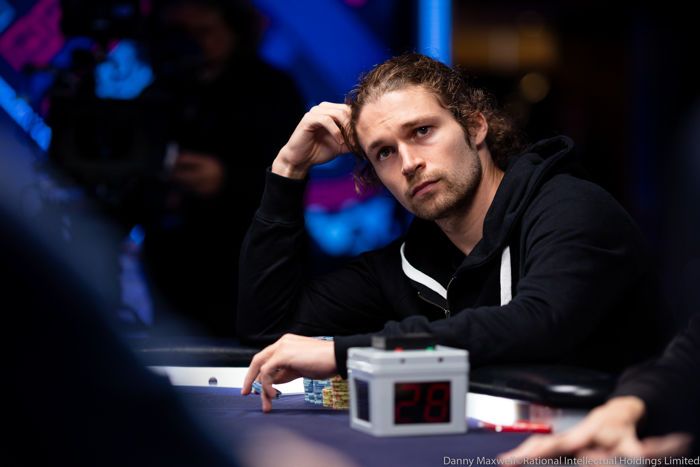 Ben Heath
On Day 5 of the Main Event, just 15 players remained in Level 24 (15,000/30,000/30,000) when Ben Heath opened to 60,000 from the cutoff and Alexandre Vuilleumier min-click three-bet to 120,000 from the big blind. Heath called.
The flop landed
and Vuilleumier continued for 75,000 Heath called. The turn brought the
and Vuilleumier sized up to 220,000. Heath used through a time extension before moving all in for around 550,000. Vuilleumier snap-called with a bigger stack.
Ben Heath:

Alexandre Vuilleumier:
Heath had flopped a set but Vuilleumier had plenty of hope with a flush draw.
"I wanted to make it 4x preflop," Vuilleumier said after seeing he let his opponent get there.
Nonetheless, the
arrived on the river to make Vuilleumier his flush to eliminate Heath in 15th place for £34,250.
Brutal Runout for Nils Pudel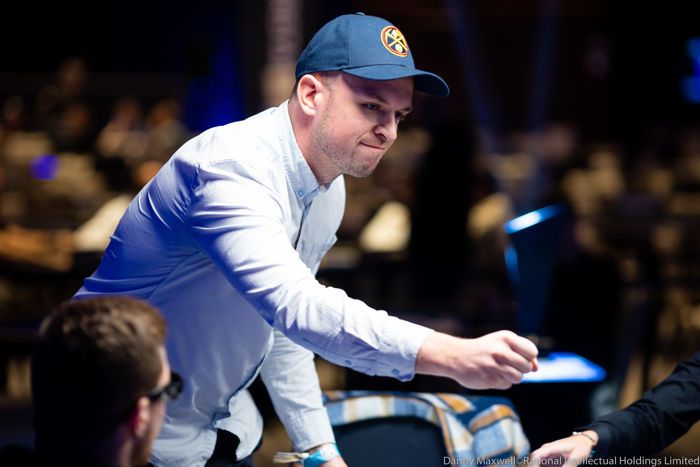 Nils Pudel
On Day 6 at the final table, six players remained in Level 28 (40,000/80,000/80,000) when Nils Pudel took a brutal beat early in the day to go out in sixth place for £134,800.
Pudel opened to 160,000 from the cutoff and Jack Sinclair three-bet to 400,000 from the big blind. The German four-bet jammed his stack of 1,270,000 and Sinclair called with a bigger stack.
Nils Pudel:

Jack Sinclair:
Pudel's aces were in excellent shape on the flop of
, but the
on the turn gave Sinclair a flush draw to give Pudel a sweat. The
then arrived on the river to give Sinclair the ace-high flush and Pudel hit the rail in excruciating fashion in one of the first hands of the day.
Find out where Jack Sinclair finished in our EPT London Recap here!

Chad Holloway
Executive Editor U.S.
Executive Editor US, PokerNews Podcast co-host & 2013 WSOP Bracelet Winner.