Posted on: January 14, 2023, 12:08h.
Last updated on: January 14, 2023, 12:08h.
Dallas Cowboys owner Jerry Jones believes the time is right for Texas to consider approving sports wagering, citing potential benefits for the second-largest state.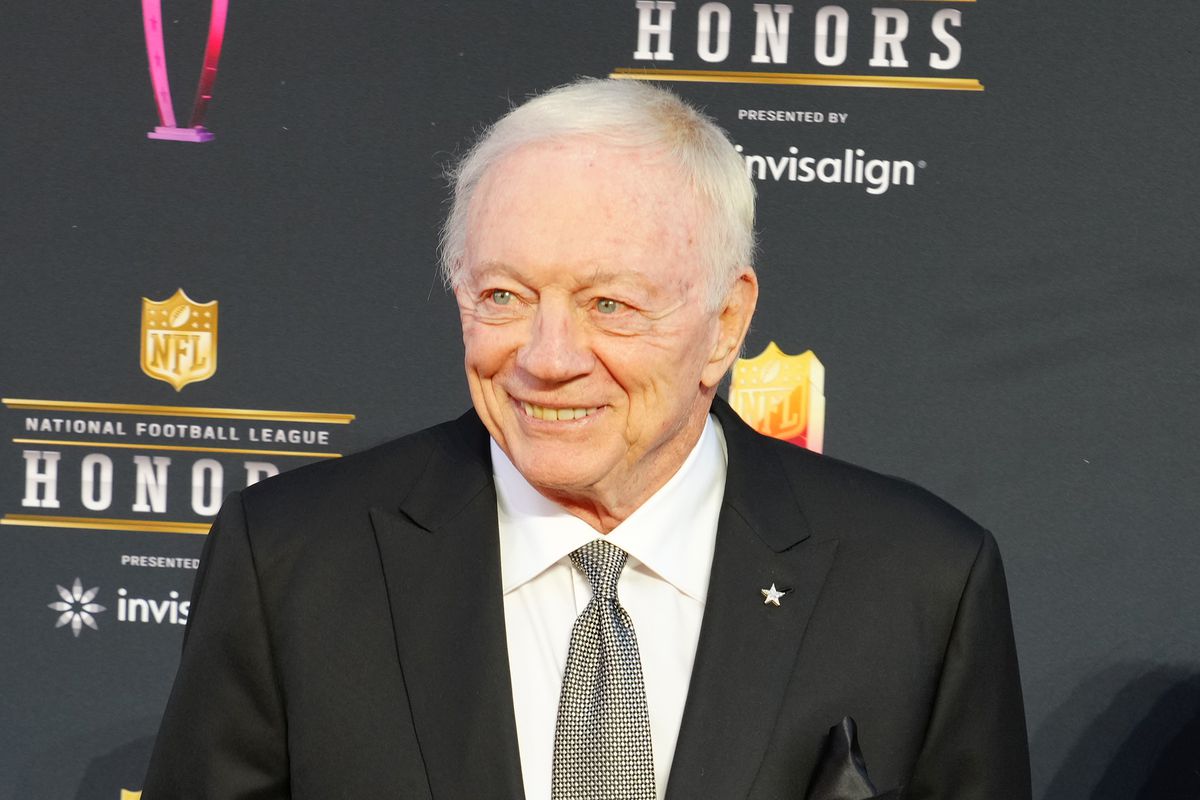 Dallas Cowboys owner Jerry Jones at an NFL awards show. He wants Texas to legalize sports betting. (Image: Blogging the Boys)
Jones made the remarks in a Friday interview K&C Masterpiece on 105.3 The Fan [KRLD-FM] and his comments come on the heels of Texas House Speaker Dade Phelan (R-Beaumont) voicing support for a small number of casino-resorts in the state.
Highlighting benefits such as added funding for education or the possibility of property tax relief, Jones noted that with or without regulation, sports betting is happening in Texas.
Well, I think it's really a thing that needs to be addressed at this time. One of the reasons why I think it does is because it's happening at this time," he told KRLD-FM. "There's a huge amount of gaming going on in and around sports at this time. And, so, to have all of the benefits or all of the control over it, it needs to be recognized and parameters put on it and discipline put in it."
Jones, who has ties to casino gaming in neighboring Arkansas, has long been a supporter of Texas legalizing sports wagering, saying in 2021 it's "inevitable."
Jones Not Only Texas Team Owner Supporting Sports Betting
The Cowboys boss is among several Texas team owners that favor regulating sports wagering in the state. The Dallas Mavericks, and MLB's Texas Rangers threw their support behind sports betting in 2021.
Owing to his ties to casino gaming, Golden Nugget boss and Houston Rockets owner Tilman Fertitta could be supportive of regulated sports wagering in the Lone Star State as well.
The Sports Betting Alliance — a group comprised of professional sports franchises in Texas and gaming companies — counts all of the big-name pro teams in the state among its backers as well as sportsbook operators Barstool Sportsbook, BetMGM, DraftKings, and FanDuel. Former Gov. Rick Perry (R-TX) is a spokesman for the group.
Jones and Mavericks owner Mark Cuban, who is an investor in fantasy sports and sports wagering companies, are arguably the two most vocal team owners in Texas when it comes to supporting legalized sports betting.
How Big Are Texas Sports Betting Benefits?
Jones rightly points out that other states in the region — namely Louisiana — are benefiting from authorized sports wagering.
"We should be getting the benefit of it as other states are. Other states surrounding us are," Jones said in the radio interview. "So, it's a time for us to, I think, set the rules up and execute on it and get the benefits of it."
Perry previously said a regulated sports betting market could generate $250 million for the state based on an estimated black market handle of $8.7 billion. However, some analysts and industry observers debate the extent to which Texas will financially benefit from sports betting with some taking issue with the $8.7 billion figure.